Baghdad, Iraq — U.S. Marines and Iraqi troops pounded insurgents with bombs and tank cannons Friday during a major offensive along a stretch of the Euphrates River valley where 22 Marines were killed this week.
About 800 U.S. Marines and 180 Iraqi soldiers moved into Haqlaniyah, one of a cluster of western towns in Anbar province around the Haditha Dam that is believed to be a stronghold of Iraqi insurgents and foreign fighters.
Heavy Abrams tanks battled insurgents armed with rifles and rocket-propelled grenades, while U.S. jets destroyed at least four buildings - two of which were found booby-trapped with explosives, a U.S. military statement said.
"The wires were connected to numerous 155-mm artillery rounds scattered throughout both buildings," the military said.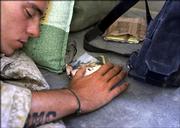 Operation Quick Strike is the third major campaign since May aimed at rooting out insurgents and foreign fighters in the Euphrates valley, which is believed to be a major infiltration route for extremists entering Iraq from Syria.
On Wednesday, 14 Marines and a civilian translator were killed near Haditha when a huge roadside bomb wrecked their lightly armored vehicle. Two days earlier, six Marine snipers died in a firefight with insurgents. The Islamic militant group Ansar al-Sunnah claimed its men staged both attacks.
Two other Marines have died in Anbar this week - one from a car bomb, the other from small arms fire.
Residents said U.S. and Iraqi troops had cordoned off Haqlaniyah, about 140 miles northwest of Baghdad, and were searching house to house. American warplanes prowled overhead and a number of heavy explosions were heard. Witnesses said 500-pound bombs were being dropped in the area.
The U.S. military has defended its operations in western Iraq, insisting it is reducing insurgent attacks despite the nearly two dozen Marine deaths this week. As of Thursday, at least 1,826 U.S. military personnel had died since the beginning of the Iraq war.
Iraq's leading Shiite Muslim cleric, meanwhile, signaled he wants Islam as the foundation of the country's legal system, setting the stage for a showdown next week as politicians struggle to finish the draft of a constitution by the Aug. 15 deadline.
Copyright 2018 The Associated Press. All rights reserved. This material may not be published, broadcast, rewritten or redistributed. We strive to uphold our values for every story published.