The time is now to make plans for spring graduation ceremonies - or, in some cases, to change them.
Lawrence public schools shifted senior high graduation dates so that Free State and Lawrence High commencements will fall the same day as the Kansas University commencement, guaranteeing May 21 will be a day teeming with caps and gowns and a strong chance of too few hotel rooms and other logistical complications for families.
"It seems to be causing all sorts of problems," said Craig Grant, a school board member.
The change has already forced some early-bird planners to alter itineraries.
"For those of us who are nutty enough to make plans a year in advance, it just changes our plans," said Cheryl Powers, mother of a Free State High senior, whose relatives had to change their plans to adjust to the new date.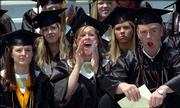 Kansas University's graduation is one of the biggest weekends of the year for Lawrence hotels. Adding more graduations means some relatives might have to find lodging in Topeka or Overland Park, said Stephen Horton, general manager of the Lawrence Holidome.
"We always start selling out a good nine months out," he said. "It's a fantastic weekend. All the hotels in Lawrence sell out."
Judy Billings, director of the Lawrence Convention and Visitors Bureau, said she could not comment on the matter or how it would affect local businesses.
"I don't have a good concept of how many people come from outside of town for high school graduation," Billings said.
For many years, the high school graduations were held over Memorial Day weekend.
Since 2004, the district has held graduation before Memorial Day weekend and before KU's graduation to avoid conflict with KU's ceremony, said Sandee Crowther, the district's executive director for planning and program improvement.
But one factor in the new graduation date is state law requires seniors be in school for 1,086 hours. That may have been a problem in 2005, when students were out before the May 15 graduation, Crowther said.
"This year the seniors may have been short a few hours," Crowther said. "We might get docked for this year."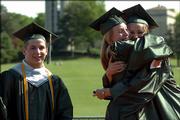 In 2006, in order to meet the requirement, senior finals must occur on May 17 and May 18. Thus, graduation must follow May 19, Crowther said.
Saturday, May 20, was not ideal because Project Graduation, an alcohol-free, after-ceremony festivity cannot be held on Saturday. It takes place at local bars or clubs that won't give up Saturday nights for such events.
Another option was Monday evening, May 22.
"That just didn't seem like a good option - to have it on a week night," school board member Sue Morgan said.
The school board opted for a May 21 date instead.
The KU procession begins at 2 p.m. The school district set the senior high graduations around the KU celebration. Free State High's is set for noon. And Lawrence High's will be at 4:30 p.m.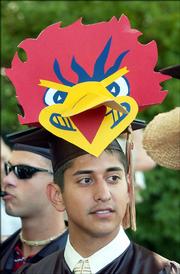 "This is a change," Crowther said. "And we understand it's a change. That's why we did it now instead of later."
The high school ceremonies will take place at Haskell Indian Nations University.
Holding the ceremonies at KU costs about $4,000, while holding them at Haskell costs about $600, said Rick Gammill, the district's director of special operations, transportation and safety.
"It's a good deal for us," Gammill said. "The Haskell stadium provides an excellent venue for high school graduations."
School board member Linda Robinson said the problem is the reality of living in a town with a major university.
"It was just a compromise this time," she said. "I think it's just the reality of having to schedule it around (KU)."
Free State senior Molly Krishtalka said the graduation date didn't bother her, but another issue did.
"I think it's a little unfair, because everyone who graduated last year got to leave (school) a week earlier than we get to."
Graduation dates
Wellsville High, 2 p.m, May 14. De Soto High, 10 a.m., May 20. Mill Valley High, 2 p.m., May 20. Eudora High, 1 p.m., May 20. Baldwin High, time TBA, May 20. Santa Fe Trail High, 7 p.m., May 13. Perry-Lecompton, 2 p.m, May 20. Oskaloosa High, 3 p.m., May 21. McLouth High, time TBA, May 20. Tonganoxie High, 7 p.m., May 13. Basehor-Linwood High, 7:30 p.m., May 18.
Copyright 2018 The Lawrence Journal-World. All rights reserved. This material may not be published, broadcast, rewritten or redistributed. We strive to uphold our values for every story published.