This was supposed to be Eagle Bend Golf Course's year.
But the city-owned course continues to struggle financially.
"This was the year that it clearly should have done well, and it has not," said Ed Mullins, the city's director of finance.
After losing $190,000 last year, Eagle Bend expected to rebound because chief competitor Alvamar Golf Course was closed for renovations much of the spring. Also, greens fees were increased by $2 to help generate more revenue. A round of 18-holes of golf now costs between $19 and $33. Golfers have also been greeted by drier weather this year
But revenues at the course below Clinton Lake Dam saw its revenues through June drop by $20,000, or 3.5 percent, compared with last year, according to the city's six month financial report. And rounds played are down from 13,745 through June 2004 to 12,758 through June 2005.
When Eagle Bend was built in 1998, commissioners were told many Lawrence residents were leaving the community to golf. Consultants also said the course would pay for itself after about a year of operation. Briefly after opening, the course was self-sufficient, but as new courses were added in the area, rounds played consistently have fallen from a high of 41,500. This year the city is projecting 27,240 rounds played.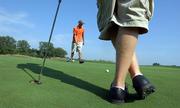 Mullins is estimating that the course will lose about $140,000 this year, making somewhat of a comeback from last year because Lawrence Country Club is closed for renovations for the rest of the year. But Mullins said it appears certain the city will have to subsidize the golf course.
"I'm disappointed that it hasn't improved, but that is in no way a criticism of the staff out there," said City Commissioner Sue Hack. "I think they are working very hard on it. I don't understand why it hasn't improved, but clearly it hasn't."
Several golfers at the course on Tuesday also said they were surprised business hadn't picked up. Most said the course was well-kept and a reasonable value. But Greg Lamb, an Olathe resident who works in Lawrence, said he thought the course was struggling to draw golfers from the lucrative Kansas City market, which has seen a number of new courses built.
And if Kansas City area golfers do decide to travel to Lawrence, Lamb said, there's no guarantee that they'll choose to play Eagle Bend. Alvamar's public and private courses, the Lawrence Country Club and the Orchards, a nine-hole executive course, are attractive options, he said.
"Really, if you think about it, that's a pretty good number of courses for a community this size," Lamb said.
When the course was planned in the mid-1990s, it was estimated it routinely would see 44,000 rounds of golf played on it per year.
Mullins said city leaders need to understand that those projections likely are no longer valid.
"We're not getting the rounds played that we were anticipating," Mullins said. "I don't see on a long-term basis that we're going to get the numbers we would like."
Hack said she believed the city needed to be prepared to subsidize the city's golf course in future years, but she said she would like to follow a parks and recreation staff recommendation to open the course up to more private tournaments. The private tournaments, staff members have said, could help reduce the course's financial shortfall.
Mayor Boog Highberger also said he was prepared to keep subsidizing the operation. But he said he wasn't sure adding more tournaments was a good strategy because it could make it more difficult for the average golfer to get a tee time.
He also said citizens need to understand that simply closing the course isn't a viable option. That's because the city is obligated through 2016 to pay $320,000 a year in bond payments related to the construction of Eagle Bend. Those bonds must be paid whether the course is open or not.
"People need to understand that it would cost us more to close it down," Highberger said.
Copyright 2017 The Lawrence Journal-World. All rights reserved. This material may not be published, broadcast, rewritten or redistributed. We strive to uphold our values for every story published.