For the second time in a row, Allen Press won the Journal-World Corporate Spelling Bee.
Wednesday's competition all came down to the word "minnesinger."
After consulting with teammates Ted Fleming and Steve Holliday, Joanne Hossack correctly spelled the word, which means "one of a class of aristocratic German lyric poets and musicians of the 12th to the 14th centuries characterized by having love and beauty as the subject of their songs."
Moments earlier, a team of three Kansas University students representing The Legends, a student apartment complex, had misspelled the word.
"I thought it was a good guess, but I didn't know for sure that I had it right," Hossack said after the contest was over. She was the only holdover from last year's winning team.
The Legends team, made up of Mike Zerwekh, Lawrence junior; Scotty Karlin, Overland Park senior; and Ricky Fursetzer, a sophomore from Minnetonka, Minn., were the winners of the spirit award trophy. Throughout the evening they drank bottles of beer from the open bar and gave each other "high-fives" when they spelled words correctly.
"The beer helped," Karlin said after the event.
This year's spelling bee took place at Maceli's, 1031 N.H, one of several sponsors of the spelling bee. Other sponsors were the Lawrence Board of Realtors, Huxtable and Associates and Bittersweet Garden & Floral Design.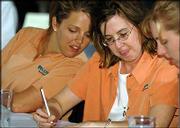 The spelling bee is a fund-raiser for Newspapers In Education, which provides about 1,000 free newspapers to Douglas County schools. Ten corporate teams entered this year's contest. It was taped by 6Productions and will be aired several times in May on Sunflower Broadband Channel 6 as a special segment of the "1 On 1" trivia contest show with Andy Bob Morton. The coordinator of the Journal-World NIE event was Amanda Henry.
Businesses participating in the contest put up entry fees of $250 for a team of three people. They also had options to pay extra to buy misspelled words.
The other businesses competing in the spelling bee were Peoples Bank, Lathrop & Gage, Gould Evans Associates, Aquila, The Bowersock Mills and Paper Co., Half Price Books and Bishop Seabury Academy.
Copyright 2018 The Lawrence Journal-World. All rights reserved. This material may not be published, broadcast, rewritten or redistributed. We strive to uphold our values for every story published.