There's a new fund-raising event this year among the several happenings scheduled as part of Lawrence Earth Day festivities, which continue through Saturday.
Lada Salon and Spa is sponsoring the inaugural Earth Day Fashion Show and Silent Auction at 7 p.m. today at the Granada, 1020 Mass. Tickets cost $10. Organizers say proceeds will got to a foundation that aims to preserve American Indian lands and waters.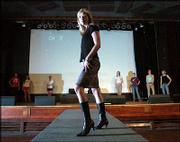 "Out primary goal for doing this is to help preserve the wetlands around Lawrence," said Laura Coiner, a stylist with Lada Salon, 4931 W. Sixth St. "But we're hoping to bring the community together at this event, have fun and show some great fashion and hair while helping a good cause."
Money from the show will go to the Honor the Earth Foundation, which has projects earmarked in each state.
The fashion show will feature clothing from local designers and stores, including Hobbs, 700 Mass., The Casbah, 803 Mass., Backwoods Equipment Co., 916 Mass., and Spectator's, 710 Mass. About 70 models will participate.
"The makeup and hair for the fashion show is pretty elaborate, from what I've seen," said Emily Cope, of Lada Salon and Spa. "It's going to take a better part of the day to prepare the models for the show."
The event also includes a silent auction with about 100 items up for bid, Coiner said.
Tickets are available at the spa and at the door.
Today¢ Lada Salon and Spa is partnering with other businesses to host a silent auction and fashion show at the Granada, 1020 Mass., to benefit the Haskell-Baker Wetlands. The silent auction begins at 7 p.m., and the fashion show starts at 8 p.m.Friday¢ From 9 a.m. to 2:30 p.m., an Earth Day event for schools will be at the Prairie Park Nature Center, 2730 Harper St. Reservations are required by calling 832-7980.¢ From 2 p.m. to 4:30 p.m., Seed Savers Exchange executive director Kent Whealy will give a gardeners' workshop in Building 21 at the Douglas County 4-H Fairgrounds, 21st and Harper streets. The cost is $10.¢ At 6 p.m., there will be a ceremony for the Imagination & Place Environmental Award, honoring a local business for making a positive impact on the environment. The ceremony will be at the Lawrence Arts Center, 940 N.H.¢ At 7 p.m. there will be a free presentation called "Rescuing Heirloom Food Crops" at the Courtside Room at Kansas University's Burge Union.Saturday¢ From 6 a.m. to 8 p.m., the Lawrence Transit System will offer free rides.¢ From 10 a.m. to 2 p.m., the Prairie Park Nature Center will hold Earth Day activities.¢ The fifth annual Earth Day Parade begins at 10:45 a.m. and will travel from Watson Park, Sixth and Kentucky streets, to Massachusetts Street and south to South Park.¢ From noon to 4 p.m., Celebration in the Park will happen in South Park. The event features live music, games and food.
Copyright 2018 The Lawrence Journal-World. All rights reserved. This material may not be published, broadcast, rewritten or redistributed. We strive to uphold our values for every story published.