Vatican City — Cardinal Joseph Ratzinger, a traditionalist and doctrinal guardian who collaborated closely with his predecessor, Pope John Paul II, was elected pope Tuesday in a conclave that lasted little more than 24 hours.
As the Roman Catholic Church's 264th successor to St. Peter, the new Pope Benedict XVI, smiling serenely, greeted the faithful in St. Peter's Square with a deferential reference to the man who came before him.
"Dear brothers and sisters, after the great Pope John Paul II, the cardinals have elected me -- a simple, humble worker in the vineyard of the Lord," he told the faithful from the balcony of St. Peter's Basilica.
He spent his first evening as leader of the world's 1.1 billion Roman Catholics in St. Martha House, the cardinals' residence in the Vatican, sharing a meal with the men who elected him.
Today, he will celebrate a private Mass in the Sistine Chapel. His first public Mass -- his installation as pope -- will take place Sunday, according to Vatican spokesman Joaquin Navarro-Valls.
Although the announcement was greeted with delirious cheers by the multitudes gathered in St. Peter's Square, the choice of the 78-year-old German prelate is already a controversial one.
As head of the Congregation for the Doctrine of the Faith, Ratzinger served as Pope John Paul's theological enforcer.
Many who know him personally describe him as shy and reserved, but his strict imposition of John Paul's conservative approach to social issues and his harsh silencing of several prominent theologians established his reputation as a polarizing figure in the church.
As successor to the immensely popular and charismatic John Paul, whose 26-year papacy combined bold political strokes, an epic global pilgrimage and a death that provoked mourning worldwide, he faces a daunting task.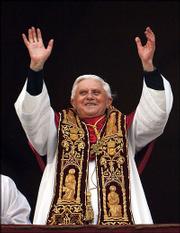 But the choice of Ratzinger was made with surprising speed.
When smoke began to curl from the Sistine Chapel's chimney five minutes before 6 p.m. Rome time, confusion reigned. Some in the crowd thought it was white, meaning a new pope; others were sure it was black, an inconclusive vote. Italian television declared it white and so did the Vatican switchboard, but Vatican Radio said black.
The bells of St. Peter were supposed to clarify the matter. But at precisely 6 p.m., the bells began tolling the hour, adding to the confusion. Finally, when the bells started to toll at a few minutes after the hour, it was clear that a new pope had been elected.
An air horn sounded. Flags waved and songs in different languages were lifted toward the balcony where the new pope would appear. Across Rome, church bells peeled and people flocked to the square. Via della Conciliazione, the broad avenue that leads to St. Peter's, became a fast flowing river of humanity, some strolling, some sprinting toward the square to see the announcement.
Selected on fourth ballot
¢ Joseph Ratzinger is the first German prelate in nearly 1,000 years.¢ At age 78, he's also the oldest pope selected since 1730.¢ He joined Hitler's Nazi youth movement against his will when he was 14 in 1941, when membership was compulsory. He says he was soon let out because of his studies for the priesthood.¢ He wrote a biography in 1998, titled "Milestones."
Cardinal Jorge Arturo Medina Estevez, the senior cardinal deacon, appeared first, and at 6:42 p.m. he told the world "habemus papam" -- we have a pope.
Then he introduced Ratzinger as Benedict XVI.
The initial reaction of the crowd was mixed. Some seemed confused, but others began chanting, "Benedict! Benedict!"
Monsignor Thomas Fucinaro, originally from Lincoln, Neb., but a longtime Vatican staff member, was waiting with fellow priests along one of the wooden barricades. "The fact that this was such a brief conclave is a clear sign of the unity of the cardinals," he said. "We are all ecstatic."
After two inconclusive ballots Tuesday morning and one Monday evening, Ratzinger was elected on the fourth ballot, taken at the conclave's Tuesday afternoon session, according to Cardinal Joachim Meisner of Germany.
A total of 77 votes -- the support of two-thirds of the 115 cardinal-electors -- was needed. It is not known how many votes Ratzinger received or who his main competitors were.
This conclave was as quick as the first 1978 conclave that settled on Albino Luciani -- Pope John Paul I -- after four ballots. He died 33 days later. It took eight ballots over two days to elect his successor, Karol Wojtyla, who became Pope John Paul II.
Desiring peace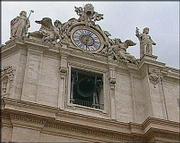 Benedict XVI is the first German pope since Victor II in the 11th century. In Germany, Chancellor Gerhard Schroeder called it a "huge honor," while President Horst Koehler said "a compatriot pope filled us with a special kind of joy and a little bit of pride in Germany."
The new pope has not yet publicly explained his choice of name, but the last Pope Benedict, who reigned from 1914 until 1922, was known as a modernist and moderate who worked to bring peace during World War I and also worked to patch relations between opposing forces in the church.
Cardinal Justin Rigali, archbishop of Philadelphia, said the new pope told the cardinals that he selected the name because "he is desirous to continue the efforts of Benedict XV on behalf of peace ... throughout the world."
St. Benedict, who lived in the 6th century, is regarded as the co-patron of Europe, along with Sts. Cyril and Methodius, and this may reflect the new Pope Benedict's priority to revitalize Christianity in Europe, where it is seen to be losing ground to rampant secularism, materialism and what the new pope has characterized as the "dictatorship of relativism."
"We still have some problems in Northern Europe -- the church -- and maybe he can solve them," said the Rev. Davide Brighi, 32, a priest who was in St. Peter's Square on Tuesday.
But Brighi, who is studying at the Gregorian Pontifical University in Rome, noted that a Dutch couple standing nearby was not happy with the choice.
"I think it's natural. You know a man by the things people say about him," Brighi said.
Mixed reaction
While his fellow cardinals and many others in the church view Ratzinger as a natural leader and respect him as a man of deep intellect and faith, he is often portrayed in the media as an unbending conservative with narrow views on doctrinal matters.
He has rejected any talk of ordaining women and has refused to consider allowing priests to marry. He has said the Roman Catholic Church is the "only instrument of salvation" and that other faiths were "gravely deficient."
A conservative British newspaper recently characterized Ratzinger as "perhaps the only man alive of whom it might be said that he is more Catholic than the pope."
Pope John Paul, even in his last years, was enormously popular with young people. The new Pope Benedict is not known for projecting much warmth or charisma.
"I'm not pleased with Ratzinger as the new pope," decided Chiara Mariani, 21, as she waited in St. Peter's Square. "I was hoping for a Latin American pope. Ratzinger is a name we are familiar with. What he makes us think of is tradition and the strictest line."
But for Cecilia Gobbi, another Roman, the German prelate was exactly the right choice. "He was friend with Giovanni Paolo (John Paul) and their ideas were the same."
The election marks the conclusion of the most widely watched change in leadership in the history of the Roman Catholic Church, a dramatic three-week period that began with the April 2 death of John Paul II.
Considered selection
In the venerable tradition of papal conclaves, the week leading up to the voting was filled with speculation about campaigns and counter-campaigns, which cardinals were surging and which were fading.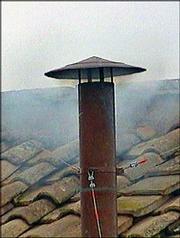 But this conclave was unlike previous gatherings of cardinals in many ways. It was the largest, with 115 electors, and the most international, with 52 nations represented. For the first time, there was serious talk of a black pope from Africa or a pope from Latin America, home to nearly half the world's Catholics.
Only Ratzinger and Cardinal William Baum, the retired archbishop of Washington, D.C., had participated in previous conclaves. All the other electors had been made cardinals by Pope John Paul, sharing a certain understanding of the church and its teachings, and bringing into the Sistine Chapel a wide array of concerns and points of view.
Speaking to reporters afterward, Cardinal Edward Egan, archbishop of New York, described the new pontiff as "a loving and lovely person, completely unassuming."
Asked how Pope Benedict would be received in the United States, Egan said, "I think he'll play well as soon people get to know him. Like anything else, it's a good idea to watch for a while."
Rigali, the Philadelphia archbishop, said no one thing turned the election in Ratzinger's favor. All the cardinals have known him for a number of years, he said.
"These decisions are not made on how a person impresses you in the last hours or minutes of the conclave," Rigali said. "In any conclave one of the principles is that the cardinals are anxious not to waste time but also anxious not to be in a hurry. We were very pleased that it would conclude today.
"We were looking for someone who is able to show an interest in all the countries of the world ... in all the problems of the world ... in all the young people of the world. It doesn't end. It's tremendous."
After celebrating his 78th birthday on Saturday, Benedict XVI is the oldest man to be elected pope in modern times. Pope John XXIII, who was 77 when he was elected in 1958, was considered a "transitional" pope because of his age, but he proved to be one of the most influential popes of the 20th century.
Copyright 2018 The Lawrence Journal-World. All rights reserved. This material may not be published, broadcast, rewritten or redistributed. We strive to uphold our values for every story published.