Clinton Lake and its surrounding parks are a little cleaner and environmentally safer today, thanks to about 80 volunteers who took part in Saturday's annual spring cleanup.
The volunteers represented Boy Scout groups, community service clubs and individuals who wanted to do their part to keep the lake area clean.
No one knows just how much trash was collected, but Kipp Walters, park ranger for the Army Corps of Engineers, said it was a considerable amount.
"If it wasn't for the volunteers, it wouldn't get picked up," Walters said.
Jay Bialek was one of those volunteers. He scoured the ground in the wooded and grassy areas along the road leading up to the lake's state park entrance. Although the cleanup has been going on for about 20 years, this was the first time Bialek participated.
"I'm kind of an environmental steward," he said. "I like to go up and down the trails."
Bialek was filling his plastic trash bag mainly with litter such as candy wrappers and beverage cans.
"I have some articles of clothing -- underwear," he said. "I guess that's not anything unusual."
Sam Seminoff and Dan Gaumer, representatives of the Lawrence Kiwanis noon club, found a place near the city's off-leash dog park that had been turned into an automobile parts dump site. They picked up a muffler, several oil filters and other similar items. Gaumer and Seminoff were assisted by Gaumer's 10-year-old daughter, Savanna Gaumer.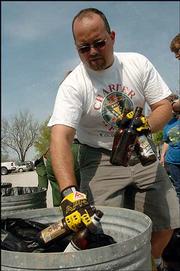 "It makes me sad to see this because it really hurts the environment," Savanna said.
Not all of the trash was found on land. Dave Bach, co-owner of the Scuba Shack, 1045 N.J., along with three other underwater divers, picked up trash they found below the water level along Bloomington Beach. They pulled out numerous rusted cans as well as beer bottles, diving masks and sunglasses. Much of the trash, Bach said, was in water 10 to 12 feet deep out near a yellow buoy.
"You find a little bit of everything," Bach said. "People need to be cognizant of what they are doing. Some people just aren't environmentally friendly."
Walters said he was not surprised by any type of trash people found. He recalled instances where typewriters, toilets and even a nitrous oxide tank were brought in by volunteers. Perhaps the most unusual item found was an airplane cockpit console, he said.
This year the most unusual piece of trash brought in was a dead rat, Walters said. A prize of $5 was given to its finder, a boy named Harrison Longhurst.
Despite mild, sunny weather, the crowd of volunteers was down considerably from past years. In recent years 200 to 300 people have participated, with a record crowd in the 1980s of more than 700, Walters said.
"I was a little disappointed more people didn't come out today, but I know there are a lot of activities going on," he said.
Copyright 2018 The Lawrence Journal-World. All rights reserved. This material may not be published, broadcast, rewritten or redistributed. We strive to uphold our values for every story published.