Robert Worcester has already lived in a 13th-century British castle.
And he was just knighted.
Now he just needs the shining armor to complete the image.
"I'm over the moon about it," Worcester said of his recently announced knighthood. "It all goes together."
Not bad for a guy who grew up in Kansas City, Mo., attended Kansas University and has made a name in the not-so-knightly career of public opinion polling.
Worcester, who received his bachelor's degree in business from KU in 1955, is in town this weekend for his 50th class reunion, part of the Gold Medal Weekend events taking place at KU.
Worcester -- whose name is pronounced "Wooster" -- is well known in Britain as a political commentator and author. He is chairman of Market & Opinion Research International, one of the 20 largest market research firms in the world, which conducts both political and corporate polling.
But many of the conversations this weekend aren't focusing on Worcester the political analyst. They're centering on Sir Robert the knight.
He vividly remembers the moment in September when his chauffeur handed him an envelope containing the announcement that he would be named a Knight Commander of the Most Excellent Order of the British Empire by Queen Elizabeth II.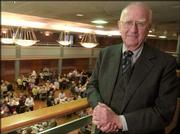 "Absolutely astonishing," he said. "I was speechless. I was absolutely speechless. That was a stunning moment in my life."
Worcester, who has dual citizenship in the United States and Britain, has taught at four universities and has a long history of environmental activism through the Worldwide Fund for Nature and the Wildfowl and Wetlands Trust. But his knighthood came as a result of the "outstanding services you rendered to political social and economic research and for your contribution to government policy and programmes," according to the letter.
The official certificate came in the mail Thursday, after he'd left for Lawrence. He'll participate in the traditional knighting ceremony -- when the queen will tap him on the shoulders with a sword -- in June. Several hundred other knighthoods will be conferred that day.
He said he's only allowed to take three guests to the ceremony.
"I'll be negotiating that gingerly," he said.
Worcester moved to London in 1969, working with another market research firm. He said he'd had a fascination with British culture, movies and even the accents since he was young.
He took that to a new level a few years ago, when he purchased a Tudor-era castle that was once home to the Wyatt family, advisers to Henry VII and Henry VIII.
The castle, which has been featured in numerous movies, TV shows and commercials, has 26 loos (that's bathrooms in the United States), 12 bedrooms and a large hall that would have been used for feasts.
"Americans always ask me if my castle has a moat," he said. "And I say, 'Would I buy a castle without a moat?'"
Robert Worcester, a recently knighted Kansas University alumnus, will donate $2 million to create a political science professorship, the KU Endowment Association announced Friday.Worcester, who is in town for Gold Medal reunion activities this weekend, will provide the money for a professor to study public opinion and survey research. It will include salary stipend, professional travel, graduate student researchers, public lectures, equipment and other materials.A Kansas City, Mo., native, Worcester graduated from KU in 1955 with a degree in business. He moved to Britain in 1969 and founded Market & Opinion Research International, a public research and polling firm. He also is a frequent commentator on British government.
Copyright 2018 The Lawrence Journal-World. All rights reserved. This material may not be published, broadcast, rewritten or redistributed. We strive to uphold our values for every story published.