Plymouth Congregational Church members wanted a way to connect with fellow churchgoers and make a difference in the community.
So they organized the congregation's first-ever community work day, fanning out across Lawrence on Oct. 23, 2004, to help those in need.
A group of 30 church members split up and worked on four projects. They cleaned at a local shelter and low-income health facility. Others cleaned out gutters at the homes of elderly residents. Another group made and packaged blankets for Project Linus, which serves ill or traumatized children.
That effort has since earned the church some national recognition. The volunteers will have a spot in this weekend's USA Weekend magazine. Their community work day was the same day as the national Make a Difference Day. USA Weekend honored the projects by granting 10 National Awards of $10,000, one Encore Award of $10,000 and 503 Newspaper Awards. The church volunteers earned a Newspaper Award.
"It was something that just kind of happened. It was almost by coincidence that it was on the same day as Make a Difference Day," said church member and work-day organizer Irene Soderstrom.
On the 14th Annual Make a Difference Day, more than 3 million people participated in service projects nationwide. Plymouth Congregational Church was one of two groups in Lawrence that conducted volunteer projects. Bud Jennings Carpet One store installed carpet in the library at Wakarusa Valley School, one of 85 school libraries carpeted nationally as part of a companywide national Make A Difference Day campaign.
The national campaign earned the Carpet One chain a $10,000 National Award. The money will benefit three of the schools where Carpet One installed new carpet.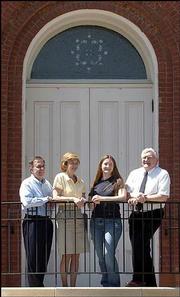 The carpet replaced at Wakarusa Valley School was bland, dreary and worn out.
"It was really past its useful life," principal Donna Black said. "We're just so pleased with what we have now. It's made the library more inviting for the kids and the staff."
Tom Jennings, president of Bud Jennings Carpet One, said Lawrence school district officials selected Wakarusa Valley for the new carpet.
Local Carpet One employees donated their time to install about 300 to 400 square yards of blue carpet in the library. The cost of the carpet and labor would have been about $10,000, Jennings said.
"We were happy to do it" Jennings said. "It just felt good when we were done at the end of the day."
Jennings said Carpet One usually holds an annual social service event. But he wasn't sure what the company would do in 2005.
Members of Plymouth Congregational Church intend to hold another community work day this year, said Soderstrom.
"This was an opportunity to start a tradition," she said.
Copyright 2018 The Lawrence Journal-World. All rights reserved. This material may not be published, broadcast, rewritten or redistributed. We strive to uphold our values for every story published.