The child-care industry in Lawrence is like a revolving door. As soon as one provider opens for business, another closes.
That turnover compounds a problem for many Lawrence parents: trying to find consistent and reliable care for their youngsters.
"It can be an issue," said Tina Serguson, child-care licensing coordinator for the health department. "Consistency is very important to young children's development. So we do encourage potential providers to consider all of the ways opening a day care is going to impact their lives and making sure this is the right move for their family before opening their doors."
Thirty-eight people obtained new day-care licenses in 2004, according to the Lawrence-Douglas County Health Department's 2004 Annual Report. But 31 licensed homes closed.
Some of the turnover is because day-care providers move and must apply for a new license with a new address, Serguson said.
"I would guess about 20 percent of the change is for that reason," she said. "But that still indicates a good amount of turnover."
The reasons for the turnover vary, said Anna Jenny, executive director of the Douglas County Child Development Assn.
People enter the day-care arena thinking they are going to make a difference in children's lives, she said, but then burn-out and the reality of long hours for relatively low pay set in.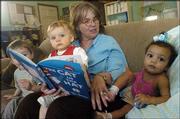 "If they're working 12 to 16 hours a day, it's not fun," Jenny said. "I don't know if there's a problem with turnover per se or even availability of child-care providers. It's a problem with how the profession can be perceived and how people are compensated."
The day-care industry has changed over the years from just baby-sitting to also providing education. And it has become more businesslike and complicated.
Marietta Winfrey, who has provided child care in the Lawrence community for 17 years and owns Little Lambs Daycare, said she thought many people went into the business with good child-development skills but were unprepared for the business aspect.
Day care is a viable profession if someone wants to go into it, Winfrey said, but no one in the profession gets rich, and it can cost a great deal of money to open and keep up with annual costs, such as insurance premiums.
In an effort to educate people interested in opening a day care, the health department holds informational meetings, which also provide a networking opportunity and a way to find support.
"Those opportunities are really important for people getting established," Serguson said. "The ultimate goal is to increase the quality of care to children in Douglas County."
The Lawrence-Douglas County Health Department will hold an informational meeting about registering and licensing family day-care homes.The meeting will be at 6:30 p.m. Monday in Suite B of the health department, 200 Maine.Kansas law requires some day-care providers who offer services at their homes to be registered. That includes day-care providers supervising two children for more than 20 hours a week or if they are taking care of three or more children.No registration or licensing is required if care is being provided by a relative.Contact the health department at 843-3060 for more information.
Copyright 2017 The Lawrence Journal-World. All rights reserved. This material may not be published, broadcast, rewritten or redistributed. We strive to uphold our values for every story published.