Pope John Paul II's most important role is the one that has perhaps been discussed the least.
"The role of the pope that hasn't been talked about was his role of the Holy Father Vicar of Christ," Monsignor Vince Krische of St. Lawrence Catholic Campus Center said Friday during a memorial Mass for the pope. "His life was about Jesus Christ and the teachings of the son of God."
More than 100 parishioners started their weekend by attending the Mass on Friday night at St. Lawrence, 1631 Crescent Road.
The mass represented a time for mourning and celebration and a prelude to change.
Jose Vitteri, a senior at Kansas University, usually attends Mass every day. Friday was no different. But the Mass did hold special meaning.
"There's a time for mourning -- it's not really about being sad -- but just realizing what a great man the pope was," Vitteri said. "And now comes a time to celebrate him and acknowledge everything he did."
Krische spoke of the humble beginnings of Pope John Paul II. He grew up poor and lost all his family by 20, Krische said.
"But he never lost faith," he said. He talked about the pope's concern for the sick, his ability to forgive and his love for all people.
Krische urged parishioners to move forward with true humility and great pride in their faith.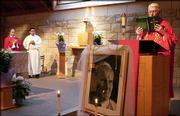 Vitteri said he hoped people recognized the importance of the pope's spiritual influence and teachings.
Indiana resident Robin Rich came to the memorial Mass to participate and to hear her son, Kirk, play the organ. She woke up at 4 a.m. Friday morning to watch the pope's funeral on television.
It's a time to reflect on the life of Pope John Paul II, she said.
"But it's also a time for change," Rich said. "I'm interested in who will be selected as the next pope."
Copyright 2018 The Lawrence Journal-World. All rights reserved. This material may not be published, broadcast, rewritten or redistributed. We strive to uphold our values for every story published.