It's small and quaint, but the tennis facility at Free State High is a place the Firebirds wish they could have competed at more than once last season.
The 2005 schedule presented four home contests, and in the first of those, Wednesday's quadrangular with Baldwin, Topeka Highland Park and Sunflower League rival Olathe South, the Firebirds went 2-1.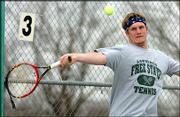 The Firebirds recorded eight victories on the afternoon. Free State defeated Hi Park, 4-0, and Baldwin, 3-1, but fell to South, 3-1.
"I was happy with the doubles, overall," FSHS coach Jon Renberger said. "That's really where we've struggled a bit, both in practice and in matches. This was a good sign, to see some improvement."
Free State's No. 2 doubles team of Stephen Donly and Zack Morgenstern won all three of their matches. On the singles side, Free State's top competitor, Keith Pipkin, showed his resiliency.
Pipkin dropped his first match of the day to South's Ross Hougland, 8-5, after the two were knotted at 5. He bounced back, though, to frustrate Baldwin's Chris Irick, 8-4. The two played close for a while, but when Irick began to lose his cool, Pipkin had the mental edge.
"I just started playing more confidently," Pipkin said. "I was also hitting my ground serves better."
Free State's Charles Guard, competing at No. 2 singles, dropped his first two matches before shutting out Hi Park's Dustin Gale, 8-0.
The No. 1 doubles pairing of Jack Hull and Nick Martinez fell to South to start the afternoon, but then won its final two matches.
Copyright 2018 The Lawrence Journal-World. All rights reserved. This material may not be published, broadcast, rewritten or redistributed. We strive to uphold our values for every story published.