Tiffany Luthi isn't sure what she'd be doing if she didn't work at Van Go Mobile Arts after school four days a week.
"You can come in here and be all stressed," the 15-year-old said as she painted Tuesday. "When you leave, you forget all your troubles. The people all get along really well. It just means so much to me."
If Van Go leaders have their way, many more aspiring artists will be able to share Luthi's experience. They've started a $1.3 million fund-raising campaign that would renovate a 9,000-square-foot warehouse connected to their current facility at 715 N.J.
The expansion would quadruple the space available for the art program that serves at-risk youths ages 14 to 21, and it could double the number of students served from 100 to 200 a year.
"Van Go definitely has a unique niche and ability to fill needs in this community," said Heather Hoy, development director for the organization. "We can continue to do that, but we can't do that without more space."
Van Go is the organization behind Jobs in the Arts Make Sense, nicknamed JAMS. Students are paid minimum wage to complete art projects contracted by local businesses and organizations. Participants also receive job training and other support services.
Their artwork can be seen around town on a Lawrence Public Library mural, benches and Journal-World distribution boxes.
About $400,000 has been raised so far during the "quiet phase" of the campaign that began last year, said Susan Tate, who is chairwoman of the fund drive. The group is having a series of socials in board members' homes to raise money.
An official public announcement of the project is expected next month. Van Go leaders are hoping renovations would begin in fall 2006, and be completed in spring of 2007.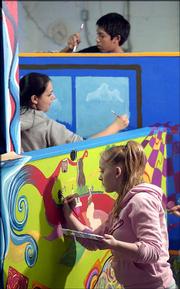 "What we find is once people know about Van Go they're ready to help," Tate said. "A lot of people are looking to help an organization that does what Van Go is doing."
Dan Rockhill, a noted local architect, has volunteered his firm's time to the project.
"We have a community that has needs," Rockhill said. "They have well outlived their current facility, and this gives them an opportunity to expand into something right next door. It's a very sensible transition and budget."
Rockhill said most of the inside space in the new building, a former beer distribution warehouse, would be left open inside.
"The thing that we wanted to do was come up with something that's really flexible, to give them the flexibility to deal with the needs they come up with," he said.
Donations to the Van Go Mobile Arts fund-raising drive can be mailed to 715 N.J., Lawrence 66044.Donations also can be made at the organization's Web site at www.van-go.org.
Hoy said the new building also could serve as a community gathering place for the East Lawrence neighborhood. She said a computer lab also in the works may be opened to the public.
JAMS participant Denzel Clendon, 14, said he's hoping the expansion can allow more students to take advantage of Van Go programs.
Clendon said he wanted to pursue a career in art. But he's just as excited at the social connections the program has provided.
"I didn't know a lot of people here before," he said.
Copyright 2018 The Lawrence Journal-World. All rights reserved. This material may not be published, broadcast, rewritten or redistributed. We strive to uphold our values for every story published.