It went to the wire.
Political veterans Mike Amyx and Sue Hack took the top two spots in Tuesday's race for Lawrence City Commission.
But incumbent David Schauner, target of various negative mailings in the days leading to Tuesday's election, spent the night in a tight battle with school district administrator Tom Bracciano for the commission's third seat.
Amyx, a city commissioner from 1983 to 1988 and former Douglas County commissioner, was the top vote-winner with 23 percent of the vote, while Hack, an incumbent seeking a second term, was solidly in second place.
As midnight neared, Schauner, one of two candidates supported by the Progressive Lawrence Campaign, trailed Bracciano by 46 votes. But as the final few hundreds votes from five remaining precincts were tallied, Schauner moved ahead by 252 votes.
The election results won't be official until Friday's canvass.
"What is really important is that neighborhoods maintain their majority on the commission. I think that's what this vote is really all about," Schauner said.
The top two finishers will serve four-year terms. Schauner, as third-place finisher, will get a two-year term.
"The budget, jobs and maintaining our older neighborhoods are essentially the three things I ran on, and that's what I think voters were interested in," said Amyx, a downtown barbershop owner.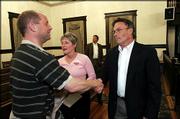 Schauner's victory will allow Progressive Lawrence candidates -- who generally have supported stricter development policies for the community -- to maintain the majority they first won two years ago on the five-member commission.
Jim Carpenter, a Progressive Lawrence candidate who finished in fifth place, said much was at stake for the community in this election.
"It will determine how growth and development is paid for in this community for years to come," he said.
During the last week, Schauner was the target of several campaign mailings from outside groups critical of everything from his policies on helping youth to false accusations that he was involved in domestic abuse. Schauner said he was uncertain how those controversial mailers affected his campaign.
"I don't know what to tell you on that," Schauner said. "My final judgment is it probably didn't make much difference."
Bracciano said he thought the postcards actually may have increased Schauner's visibility and added to his vote total.
Copyright 2017 The Lawrence Journal-World. All rights reserved. This material may not be published, broadcast, rewritten or redistributed. We strive to uphold our values for every story published.