The schools share the same city, but before Tuesday's meet at Lawrence High's Knox Natatorium the LHS and Free State girls swimming squads never had competed in a dual.
And when Shawnee Mission Northwest joined the party at the last minute, that situation didn't change.
LHS coach Ryan Adams did everything but make neon flyers to promote the first-ever dual between the schools, but that was before SM Northwest called Sunday night.
"This is why swimming is nice, because we can step up and let them in," Adams said. "Down the line, it could happen to us. It has happened to us. It doesn't take any longer to have three (teams) than it does to have two."
City coaches and swimmers, though, said the dual format wasn't that important -- they enjoy the company and support from their city mates.
"I don't think they care one way or the other. There's not really a rivalry. We don't have the underlying tension," Free State coach Jama Crady said. "They want to compete hard, but they also want to support each other."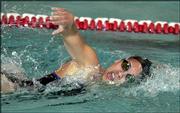 The Firebirds won eight of the triangular's 12 events, placing first after posting a score of 259. LHS finished second (205), followed by SM Northwest (196).
FSHS standouts junior Ashley Robinson and senior Ashley Jackson continued to polish their form before the state tournament. Robinson qualified for state in the 200- and 500-yard freestyle, comfortably winning both races. Jackson won two events (200 individual medley and 100 freestyle), and the pair were on two winning relay teams.
Also, Firebird Katie Sloan earned a trip to state in the 100-yard butterfly with a time of 1:02.49.
LHS won two events. The Lions' 400-yard freestyle relay team took first, and LHS freshman diver Mallory West won after posting a score of 227.55.
The Lions will travel Saturday to the Olathe Invitational, and Free State will play host Tuesday to a triangular with Shawnee Mission Northwest and Shawnee Mission South.
Copyright 2018 The Lawrence Journal-World. All rights reserved. This material may not be published, broadcast, rewritten or redistributed. We strive to uphold our values for every story published.