Garden City — Even today, it's hard to find a man more respected here than Rich Rohleder, Garden City's assistant police chief in 1959.
Many familiar with the Clutter murder case still consider Rohleder, whose early hunches about the crime and whose work produced the best physical evidence, to be the man most responsible for the convictions of Perry Smith and Richard Hickock.
But mention of Rohleder in Capote's book "In Cold Blood," which chronicles the slayings of Herb, Bonnie, Nancy and Kenyon Clutter, is sparse.
The morning the murders were discovered, Rohleder went to the Clutter home with his photography equipment and fingerprint kit and set to work.
Grover Craig, who became Finney County undersheriff in 1965 and was sheriff from 1970 to 1997, praised Rohleder's skills and determination. The assistant police chief was one of the smartest, sharpest detectives Craig said he ever met.
Rohleder's methodical detective work and determination paid off almost immediately, as an underexposed photograph of the crime scene revealed a dusty boot print. That print, along with a bloody boot print left by Smith, was the most significant evidence gathered from the Clutter house and the first inkling that police needed to look for more than one person.
Craig and others agree that thanks to Rohleder's work, Smith and Hickock probably could have been convicted on hard evidence alone -- without their confessions or information from Floyd Wells, Hickock's prison cellmate whose tales of Herb Clutter's wealth planted the seed that grew into the murders.
"That was a lucky photo to get, and of course at the time (there) was just two pieces of evidence and nothing to compare it against," said Kevin Bascue, Finney County's current sheriff and unofficial caretaker of the Clutter case evidence at the county sheriff's office. "That was the nail in the coffin when they got that boot print."
Beyond his photo work, Bascue and then Finney County prosecutor Duane West credit Rohleder with being the only investigator who initially considered robbery a motive for the murders.
West also said the assistant chief was alone in his speculation that the killers could be hundreds of miles away the day after the murders.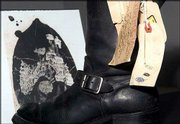 According to Charlie Armentrout, an officer with the Garden City Police Department from 1970 to 2002, Rohleder was hands-on and handy, so much so that he built his own crime-scene kit, complete with handmade fingerprint dusters made from ostrich feathers.
Rohleder was not an educated man, Armentrout said, but he was bright.
West said Rohleder's extensive knowledge of fingerprint matching was self-taught, and he even built his own functional lie-detector machine.
Capote's book mentions Rohleder's work only in one paragraph within the description of the trial, in which he is credited with the photo of the boot print in the dust and with being a good photographer.
"That's the most glaring example of all," West said of the book's shortcomings. "Because Mr. Rohleder didn't hardly get any credit at all, and he was really the hero of the case."
Even though Capote gave him little credit, Rohleder's thoroughness and forward thinking left a legacy at the Kansas Bureau of Investigation. The KBI now "brackets" crime scene photos -- meaning the photographer will take one photo at the proper exposure, then one longer and one shorter -- on purpose.
Why so little credit in the book?
West said Rohleder was turned off by Capote's homosexuality. But according to Jon Craig, a lawyer in Garden City, it was more Rohleder's personality.
Craig wrote his undergraduate history thesis at Washburn University of Topeka about the case in 1979 and spoke with Rohleder at great length. Rohleder was proud of his work, Craig said, but, "He wasn't interested in becoming famous. He was just doing his job."
---
Michael Bruntz contributed to this story.
Copyright 2018 The Lawrence Journal-World. All rights reserved. This material may not be published, broadcast, rewritten or redistributed. We strive to uphold our values for every story published.