Hubbard Collinsworth is homeless and could use some help.
But the Lawrence man said that didn't mean he needed another government-funded social welfare program. He thinks the city's homeless population can work its way out of the depths of despair, if city officials will give them their blessing and some seed money.
"A lot of us in the homeless community don't want to be beggars," Collinsworth said.
Collinsworth, who has been homeless for about a year after his small taxi cab business collapsed after 9-11, said he believed the city should explore a new idea as it studies strategies to address homelessness. He is in the process of forming a new not-for-profit corporation -- 247 Inc. -- that would operate not only a new full-time shelter but also would own several small businesses that would employ homeless individuals.
Collinsworth envisions a business that would provide temporary day laborers to construction firms and other companies needing temporary workers. He also has hopes for a cafe that would be run by the homeless. Profits from the two businesses -- and many others that also would be formed -- would be invested back into the shelter.
"They (shelter residents) will feel more like they are contributing to what they are getting," Collinsworth said. "You are increasing the self-respect and self-worth of people when they are at their lowest ebb."
Collinsworth said he planned to take his proposal to city commissioners for it to be considered when the city's Task Force on Homeless Services and a group of downtown merchants deliver their proposals to commissioners.
"I want people to be aware that there are not just two plans, but there are three plans out there to consider," Collinsworth said.
Loring Henderson, executive director of the Lawrence Community Shelter and member of the city's homeless services task force, said Collinsworth's proposal deserved a hearing before the task force. But Henderson also said that the community shouldn't have its hopes raised that the idea would be an answer to the city's dilemma about how to fund homeless services.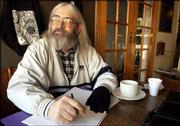 "It is a bit of a long shot, but that doesn't mean it is totally unrealistic," Henderson said.
Henderson, who has worked with the homeless community for 30-plus years, said the idea of social service agencies funding themselves through business had been tried unsuccessfully many times before. He said a homeless shelter in Kansas City, Mo., had unsuccessfully tried to run a convenience store about 15 years ago.
"It is something people have tried and talked about ever since I have been working with the homeless, and unfortunately it has just never been very successful," Henderson said.
But Collinsworth said there were success stories, like Triangle Residential Options in Durham, N.C. According to the company's Web site, the company that focuses on rehabilitating substance-abuse offenders has started a moving van company, Christmas tree lots, lawn and gardening services, picture-framing businesses, catering companies and an auto repair business. The nonprofit agency has a budget of approximately $7.5 million, with about half of the revenue coming from its own businesses.
Collinsworth said for a Lawrence program to be successful it likely would need start-up money from the city to buy a building and help it get through the lean times while its businesses took off. He said he hadn't put together a specific estimate of how much funding would be needed.
The city's Task Force on Homeless Services, which has been studying the issue for about two years, is close to delivering its final report to city commissioners, though a deadline hasn't been set.
Copyright 2018 The Lawrence Journal-World. All rights reserved. This material may not be published, broadcast, rewritten or redistributed. We strive to uphold our values for every story published.