Lawrence High's girls soccer team only could bend without breaking for so long Friday night at the Youth Sports Inc. fields.
Once LHS succumbed to the Shawnee Mission West attack about 25 minutes in, the rest was semantics as the Vikings gave the Lions their first loss under coach Jason Clark, 6-0.
When SM West attacked early, the LHS defense showed some grit. Senior Lacey Elmore made the defensive highlight of the night for the Lions when she came out of nowhere to deflect the ball away with her left foot on a shot from the left wing in the 18th minute.
But West's Alix Schiraldi opened the floodgates after getting goalkeeper Jenica Wessels' feet tangled and slipping the game's first score by her with 15:30 left in the first half.
"Once they got one in, I think we just kinda lost our confidence, and they put a few more past us," Elmore said.
The Vikings added three more goals before the half, all of which were deflected off the post. The most impressive of the three came from senior Chelsea Curry, who, from the right side, bounced it off the bottom side of the crossbar and then the post.
"We had our chances, we were competitive, and you know, we made a few mistakes," Clark said. "We made a couple of mistakes defensively in front of the net trying to get the ball out, and at that point, people were like, 'Now what do we do?'"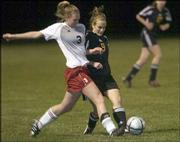 In the second half, LHS finally slowed West's swarming offensive attack which rarely allowed the Lions to get the ball across midfield in the first half. The Vikings tacked on two more tallies, but the Lions showed some heart and toughness late, as they shut out West for the game's final 28:26.
In that stretch, the Lions showed some determination that definitely could help when they next hit the field -- Tuesday, playing host to Free State at 7 p.m. at YSI.
"I think it's definitely good that Free State's our next game," Elmore said. "We're going to need to regain our intensity like the second half of this game."
Copyright 2018 The Lawrence Journal-World. All rights reserved. This material may not be published, broadcast, rewritten or redistributed. We strive to uphold our values for every story published.