Oil prices rallied to a record close above $57 a barrel Friday, sparked by a surge in gasoline futures that could send the average retail cost of gasoline above $2.25 a gallon within a few weeks.
Analysts said the nearly $2-a-barrel run-up in oil prices suggested there was new money coming into the market from hedge funds and other speculators, as well as from commercial players, such as airlines and fuel distributors, that are trying to lock in prices now out of fear that the upward trend may continue.
Another factor appeared to be an investment bank report that said strong demand and tight supplies could cause a "super spike" that will push oil prices above $100 a barrel.
After climbing as high as $57.70 a barrel, a new intraday high, light, sweet crude for May delivery settled at $57.27 a barrel on the New York Mercantile Exchange, an increase of $1.87.
The previous Nymex settlement high was $56.72 a barrel, set March 18. The previous intraday peak of $57.60 was set March 17.
In London, Brent crude futures rose $2.22 to $56.51 a barrel on the International Petroleum Exchange.
Oil prices are now 67 percent higher than a year ago, but still well below the inflation-adjusted high above $90 a barrel set in 1980.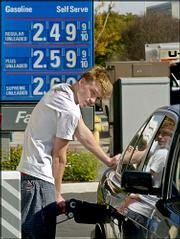 Oil analyst Marshall Steeves of Refco Group Inc. in New York said the rally in fuel prices was "overdone."
"I don't think the sky's the limit," Steeves said. "At some point, there'll be some impact on demand. But where that price is, is hard to determine."
At the moment, gasoline demand is up about 2 percent from a year ago and the average retail price of unleaded gasoline is $2.15 a gallon, according to the Energy Department.
On Friday, gasoline futures rose nearly 7 cents to settle at $1.731 a gallon, a Nymex record. Gasoline futures are up more than 15 cents, or 10 percent, during the past three days.
Copyright 2018 The Associated Press. All rights reserved. This material may not be published, broadcast, rewritten or redistributed. We strive to uphold our values for every story published.