School children gathered for a vigil Mass.
Parish priests pondered John Paul II's successor.
And others simply let their emotions flow Friday as the world watched the final hours of a pope, who for many Catholics, was the only pontiff they had ever known.
Monsignor Vince Krische, Lawrence's senior Catholic cleric, tried to put into context the life of Karol Wojtyla, 84, a Polish pope who led the Roman Catholic Church 26 years -- one of the longest papacies in history.
"When I was in Rome (in 2004), people there were saying that his legacy in death is going to be greater than it was in life. He wrote so much, and he gave so many documents that I think that we're going to be working through that for years," said Krische, director of St. Lawrence Catholic Campus Center, 1631 Crescent Road.
"Also," Krische said. "I think that he will always go down in history in regard to his influence on the fall of Communism ... and as the first pope to travel as extensively as he traveled and to visit the nations and the people that he visited. I think he was so involved in bringing the world together for world peace, and his diplomacy was all geared toward world peace, the diplomatic corps and everything."
Who's next?
Meanwhile, the Rev. John Schmeidler was busy following television news reports of the pope's rapidly declining health.
"I guess it's just wonderment, as far as who's going to be next, where the church is going to go from here," said Schmeidler, pastor of St. John the Evangelist Church. "And after following such a long history of somebody who's been loved a lot, it's going to be a hard choice to put somebody in his place."
In light of the pope's grave condition, the priest celebrated a special 3 p.m. Mass of Remembrance in the St. John sanctuary.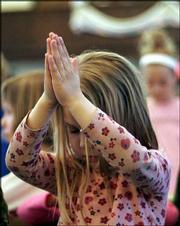 A group of children from Lawrence Catholic School-St. John Campus attended the service before classes let out for the afternoon.
Schmeidler told them that the pope was probably going to die soon and that their thoughts should be with John Paul II as he moved from this world to the next.
"The pope said, 'I have a sweet tooth for song and music,'" he told the children, "so we're going to sing some songs."
Once-in-a-lifetime
For Krische, the approaching end of Pope John Paul II's papacy has a special -- and personal -- significance.
He was one of six men who had a private audience with the ailing pontiff in November in his Vatican residence.
At the time, Krische, was nearing the end of his six-month sabbatical, during which he studied at the Pontifical North American College in Rome.
It was the first time Krische met the pope, leader of more than 1 billion Catholics worldwide.
Krische reflected upon that meeting Friday afternoon while following conflicting news reports about the precarious status of the pope's health.
"I feel so blessed to have been able to meet him in that context, just six of us in his office," Krische said. "For him to have been able to give encouragement -- although he didn't speak, but he certainly gave encouragement and hope -- I feel especially blessed to have had that opportunity."
Aside from that private audience, Krische will always have another important tie to Pope John Paul II.
In early March, Krische was elevated to monsignor, an honor approved by John Paul II.
"He was the one that named me," said Krische, who has led St. Lawrence -- the Catholic Church's ministry to the Kansas University Community -- since 1977.
Loss for youth
The death of this pope will be a major loss for Catholic youth, Krische said.
"He very much connected with young people. They loved him, and he was to them a great sign of hope. He challenged them to live up to the great ideals that they were capable of living for," he said.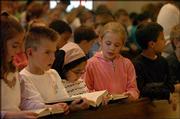 Many Lawrence Catholics stayed tuned Friday to television and radio reports on the pope's condition, while others were searching the Internet for the latest news.
One was Susan Campbell, St. John's administrative assistant and a 20-year member of the parish.
"We earlier heard that he had passed away. They said (on the news) the Vatican had not confirmed that, and later it came out that the Vatican had denied it, so we don't know," she said.
"We had a prayer service this afternoon with the school children, so we're really waiting. We expect (his death) to be any time. You don't want to see him suffer. He's been a great figure in the church, and I would hope that he would pass in peace."
'Wonderful man'
Aside from the schoolchildren who attended the Mass of Remembrance at St. John, a handful of adult members of the parish were present, too.
Lawrence residents Terry and Kristin Dunn said they wanted to honor the man whose papacy began when they were young children.
"Wonderful -- he was a wonderful man who did wonderful things," Kristin said.
"I just wanted to pray for the well being of the pope, and for the cardinals as they make their decision (about Pope John Paul II's successor)," Terry said.
-- Staff writer Jay Senter contributed to this report.
Copyright 2017 The Lawrence Journal-World. All rights reserved. This material may not be published, broadcast, rewritten or redistributed. We strive to uphold our values for every story published.