Despite earlier reports this afternoon that Pope John Paul II had died, Lawrence's Roman Catholic community was still awaiting definitive news on the ailing pontiff's condition.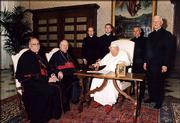 Monsignor Vince Krische, Lawrence's senior Catholic cleric, said he had heard that the pope had not yet died, but instead "that he's still in grave condition."
That followed conflicting news reports, during the day, about the status of the pope's failing health.
The Reuters news agency reported that Italian media had said the pope died. But, as of 3:15 p.m., the official word form the Vatican continued to be that the pope was still clinging to life, according to Reuters, CNN and the Associated Press.
Although it remained unclear as to whether the pope had died or not, there was a Mass of Remembrance at 3 p.m. Friday in the sancturay at St. John the Evangelist Catholic Church, 1234 Ky.
A special prayer time at 7:30 p.m. today in the chapel of St. Lawrence Catholic Campus Center, 1631 Crescent Road, will go ahead.
And Krische, director of St. Lawrence, said all of the center's weekend Masses would address the pope's precarious condition.
Copyright 2018 The Lawrence Journal-World. All rights reserved. This material may not be published, broadcast, rewritten or redistributed. We strive to uphold our values for every story published.