The Kansas University school of law took a major hit in U.S. News and World Report rankings released Thursday, falling from 63rd to 100th nationally.
The magazine said the KU school fell in nearly every category used to determine rankings, most notably in the percent of new graduates who had jobs shortly after graduating.
"This has a lot of people really worried and kind of angry," said Chris Shulz, a first-year law student from Seguin, Texas. "It's a little bit disconcerting."
The ranking was part of the magazine's 2006 edition of "America's Best Graduate Schools."
Not only did KU drop in the overall list -- which included both public and private universities -- it also declined when compared only with public schools. On that list, KU was 51st, down from 33rd last year.
KU's drop was based, in part, on a graduation-day employment rate of 43 percent in May 2003, which fell from 61 percent the year before, and an 83 percent employment rate nine months after graduation, down from 92 percent the previous year.
Other areas in which KU fell slightly included a lower bar exam passage rate, lower reputation scores among lawyers and judges, and a higher applicant acceptance rate, which meant the school became less selective.
"This shows how goosey these ratings can be," law dean Steve McAllister said. "Fairly slight changes can cause dramatic differences."
He said the most dramatic change -- in the employment rate -- could have been the result of the economy or a problem in collecting information from the recent graduates. He said the school may begin a new system for new graduates to report their employment status.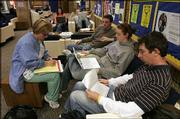 "The message to people is nothing's changed about KU law," McAllister said. "It's the same place it's always been and will be next year. These rankings are suspect in a variety of ways, but we're the same place we've always been and always will be."
McAllister will step down as dean in August and will be replaced by an interim dean, law professor Mike Davis.
David Shulenburger, provost and executive vice chancellor, agreed that the rankings weren't cause for alarm.
"It just shows how fickle these rankings are," Shulenburger said. "We have the same law school, which has had a nice stable ranking for a long time. Now there's a sudden deviation from the ranking. I don't know what to make of it beside noise."
But Bob Morse, director of data research for U.S. News and World Report, said the drops KU saw in several areas were enough to justify the lower ranking. For example, he said, KU's graduation-day employment rate was 162nd among the 179 law schools examined.
"This large a fall is uncommon, but they could look at the numbers and see they had small decreases in a lot of the factors," Morse said. "It's a big drop. I agree that's a big change -- that's not in dispute."
He said the employment placement rate was important.
"To the students who are going to the school, they went to the law school because they thought they could get a career in law because of it," Morse said. "If their placement isn't that great -- even if it may be a one-year factor -- they got hit by that."
Shulz said he and his fellow students worried that the rankings might hurt the school's reputation -- which could lead to fewer job offers down the road.
"U.S. News is the gold standard for law school rankings," he said. "Around the school, it's a pretty big deal. From the impression I've been getting from people, it's got a lot to do with the school's reputation."
Copyright 2018 The Lawrence Journal-World. All rights reserved. This material may not be published, broadcast, rewritten or redistributed. We strive to uphold our values for every story published.