Kristan Seibel has been thinking about the mountain of plastic bottles and aluminum cans left behind at a typical Kansas University football game.
If every fan drank just one beverage, she figures, there would be more than 40,000 containers headed to the landfill.
"Football games aren't necessarily the easiest place to recycle at," said Seibel, a KU junior from Hays who chairs the student environmental advisory board. "People have a tendency to think, 'I'm just going to throw it away. I don't want to put that stuff in my trunk.'"
Starting today -- when KU plays Texas Tech at 2:40 p.m. -- tailgaters will have another option.
The KU Environmental Stewardship Program has set up two 14-foot-long trailers outside Memorial Stadium for fans to sort their pre-game trash.
"The big thing is we want to make sure we're reducing the environmental impact of some of these events," said Jeff Severin, the program's manager. "It's going to be a big game, lots of fun, lots of people. But we need to reduce the impact events like this have."
One recycling bin will be placed near the southeast corner of Memorial Stadium, with the other north of Potter Lake. There will be places for fans to put aluminum cans, plastic bottles, glass bottles, cardboard and newspaper.
The cans will be donated to Habitat for Humanity, which sells the aluminum to help fund its programs. Severin said the glass would be taken to the Wal-Mart recycling center, and the rest of the materials will be headed to KU's recycling warehouse on west campus.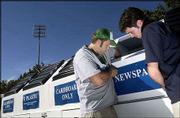 Seibel and other student volunteers will make their way through the tailgating throngs today to spread the word about the new program.
"I'm sure this will definitely make a difference," she said. "It's easy and it's accessible. And if they see it's this easy to recycle at a tailgate event, they might start recycling at home, too."
Copyright 2018 The Lawrence Journal-World. All rights reserved. This material may not be published, broadcast, rewritten or redistributed. We strive to uphold our values for every story published.