Senior Night can be dangerous to even the best of volleyball teams because of the hoopla and emotions surrounding the event.
Free State High's senior recognition night Thursday didn't distract the Firebirds too much. They had a few mental lapses, but were plenty efficient as they went 3-0 at a quadrangular at Free State.
The Firebirds beat Shawnee Mission West 2-1, Olathe North 2-0 and Blue Valley West 2-0, effectively shaking off last week's disappointing loss at Olathe South.
"Tonight they played more like they're capable of," FSHS coach Nancy Hopkins said. "They have tons of talent, and if they all play together there's not too many teams that are going to beat them."
SM West was talented enough to beat Free State, and for a while looked like it would, but the Firebirds (10-3) simply wouldn't let it happen. West was highly skilled and kept itself in the match with precise passing and quickness on defense, but FSHS simply was too athletic, too tall and too strong.
The Vikings used an 8-0 run to blow by FSHS in game one, but the Firebirds toughened up and won nail-biters in games two and three.
"I think the excitement from senior night overwhelmed us a little bit," senior Jenny Heppert said. "We also need to learn to jump on our opponents and really get it done."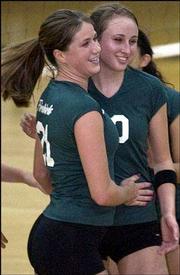 Ceremonies honoring Free State's six senior players and two senior managers took place following the SM West match, and then the Firebirds settled down and took care of business.
Olathe North posed little threat. An all-senior lineup cruised to the game one victory, and senior Lacey Malarky served the Firebirds to a 14-0 run in the game two blowout. Match three against Blue Valley West was slightly more competitive but never in doubt.
Heppert led the Free State offense with 25 kills, and senior Katelin Karlin added 21. Senior Megan Wyatt paced the Firebirds with 30 assists and four aces, and Malarkey added 22 assists.
"It was a whole team effort tonight," Heppert said. "We're just going to build from here on our season and make it a great season, not just a great night."
Copyright 2017 The Lawrence Journal-World. All rights reserved. This material may not be published, broadcast, rewritten or redistributed. We strive to uphold our values for every story published.