A Lawrence man was seriously injured Monday morning in a head-on wreck on U.S. Highway 40 west of its interchange with the South Lawrence Trafficway.
Roger A. Thomas Jr., 22, was taken by air ambulance to University of Kansas Hospital after being critically injured in the accident, according to the Kansas Highway Patrol. He was driving a red 1988 Honda CRX that collided with a 2004 canary-yellow Chevrolet Cavalier driven by Joseph M. Hall, 22, of Topeka. Hall was taken by ambulance to Lawrence Memorial Hospital and later discharged.
Traffic, which included many commuters, was diverted for several hours because of the 8:35 a.m. collision.
Thomas was attempting to pass a pickup truck in a no-passing zone as he was driving west on U.S. 40, Kansas Highway Patrol Trooper Aaron Klaassen said. Thomas tried to stop when he saw Hall's Chevrolet heading toward him in the eastbound lane, but the two cars collided head-on, Klaassen said.
Klaassen said the driver of the pickup truck that Thomas had attempted to pass didn't stop.
"It kept on going," he said. "It didn't see the accident or didn't stop -- one or the other."
Nearby residents called 911 after hearing the accident.
"We woke up to screeching tires and then ka-pow," said Dan Upton, who was staying at a house near the accident site.
He and his wife, Mariah, said they ran to the scene after calling 911. They couldn't tell how badly the men were injured, but they said they were particularly concerned about Thomas after seeing the damage to his car.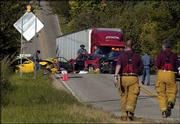 The couple said additional collisions involving trailing motorists after the wreck were narrowly averted as the other drivers came over the hill.
"They had to screech on their brakes," Mariah Upton said. "There were people turning around blocking the two lanes while the ambulance was coming and you could hear the sirens."
The hilly section of U.S. 40 was also the site of a fatal head-on collision in December 2002 that killed Tisha Downing, a secretary at Eudora High School.
Klaassen said he would like to see U.S. 40 widened west of the trafficway.
"It's a bad stretch of the highway," he said. "They have wrecks here. There are no shoulders and no place for people to dive off, if they get into trouble."
Work is under way to widen U.S. 40 from Wakarusa Drive to the trafficway.
Copyright 2018 The Lawrence Journal-World. All rights reserved. This material may not be published, broadcast, rewritten or redistributed. We strive to uphold our values for every story published.