Whether they're partisan vigilantes or just plain vandals, some people can't keep their hands off political yard signs.
One recent victim of these sign-swiping thieves is James Dunn, who picked up five Kris Kobach signs last weekend at a Republican gathering. He put up three of the five that night at some of his rental properties. By sunrise, two were gone.
"I didn't take very many because I knew they wouldn't last," said Dunn, Republican precinct committeeman for the heavily Democratic 7th Precinct in central Lawrence.
It happens every election season. But some in Lawrence expect the problem of stolen signs could be even worse this general election because of the high stakes involved.
"I've heard of a dozen thefts already, and the yard-sign blitz has hardly even started," Julie Gottschall, who directs community events in Douglas County for the state Democratic Party, said last week. "We have an awfully big presidential race going on, and people are a little more polarized this year. That's a good indication there could be some nastiness."
A few years ago, Democrats began putting signs up later in the election season to reduce the likelihood of thefts or vandalism, she said. They also asked people to take their signs inside in the weeks after the primary election.
"I would say that the majority are just theft in fun or young people just tearing them up," Gottschall said. "I think there's probably a very small minority at the current time that are politically motivated, but there definitely are some."
Amy Herren's Kerry/Edwards yard sign disappeared Sept. 11 from her yard in the 800 block of Arkansas Street as fans were streaming through her neighborhood toward the KU football game. Her husband suspects it might have been a "stupid drunk person," Herren said, but she wonders whether it was political.
Losing a political sign feels different from having other property stolen because it's there to make a statement, she said.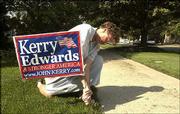 "It's this emotional thing. You're saying that you really care about this," she said.
State Rep. Tom Sloan, a Lawrence Republican, put up about 185 signs before the GOP primary and said he had lost about 65 of those. Sometimes he replaces signs three or four times. At $6 per sign, the cost can add up.
So far, he doesn't suspect any political motivation for the signs he's lost in this election cycle.
"I don't see that my state race is particularly contentious, and I'm not worried about it," he said.
Copyright 2018 The Lawrence Journal-World. All rights reserved. This material may not be published, broadcast, rewritten or redistributed. We strive to uphold our values for every story published.