When the mayor of Hiratsuka, Japan, came to Lawrence last week, the last thing she expected was to experience a chapter out of the Old West first-hand.
Ritsuko Okura, the mayor of Lawrence's sister city, was sitting in a wagon along with Lawrence Mayor Mike Rundle, ready to ride in the Sesquicentennial Parade when all hell broke loose.
Their wagon was lining up for the parade near Seventh and Massachusetts streets when a band started playing. One of the two big Belgian draft horses pulling it panicked and ran into the side of a sport utility vehicle, dragging the wagon with it and scaring the second horse.
The first horse fell, possibly slipping on the wet pavement, and slid partially under the SUV.
Lawrence businessman Rob Phillips, owner of the horses, came over and worked with the wagon's driver to get the animals under control.
"We had a little bit of Wild West fun," Rundle said later.
Okura also laughed about it later, but at the time "it was really scary," she said. "I didn't know you had horses in American parades."
Rundle also took the incident in stride. "Rob Phillips came over and seemed to have a calming effect (on the horses)."
The mayors went ahead and rode in the parade with the horses.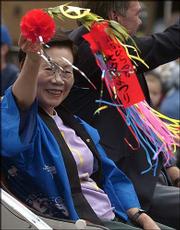 "We stayed away from the bands," Rundle said.
The horses were not injured, but "bands and horses don't mix," Phillips said.
However, the collision between the horse and the SUV, a nearly new Toyota Highlander, caved in a large section of the driver's side front fender. It had to be towed away. It's owner, Kumi Patterson, had watched stunned with other onlookers when the horse bolted.
Patterson, a native of Hiratsuka who has lived in Lawrence for 11 years, had picked up Okura at a Kansas City airport and driven her to Lawrence earlier in the week.
"I don't know what I'm going to do," Patterson said. "I'm glad both mayors are safe."
According to Rundle, insurance must be obtained for a parade to be held.
"I'm sure something will be done," he said.
Copyright 2018 The Lawrence Journal-World. All rights reserved. This material may not be published, broadcast, rewritten or redistributed. We strive to uphold our values for every story published.