While a strong thunderstorm rolled through northeastern Kansas on Saturday morning, runners at the Rim Rock Farm High School Classic stayed on the buses and waited. And waited. And waited.
For a little more than an hour, teams from five states hung out, waiting out the lightning delay. Some wondered if the races were going to be held at all.
In the end, they were, and while many local participants seemed either unaffected or recharged by the holdout, others seemed out of tune and longing for a different day.
As expected, out-of-state teams -- some with national rankings -- dominated the elite varsity gold races on Saturday, but schools like Lawrence High and Baldwin held their own against the tough competition.
The Class 4A Baldwin girls placed 10th in the gold division, behind eight out-of-state teams and Class 6A Blue Valley North, which featured individual champion Jana Gwinn.
Lawrence High's girls finished 16th as a team, led by Kelly Renfro's 10th-place individual finish. Renfro surprised many in her Rim Rock debut, earning an individual medal and placing fourth among all freshmen.
"She's been working out really well this week," LHS coach Chip Anderson said. "The younger ones have been pushing harder and harder. We came out here and ran on Wednesday, and they thought the course was exciting. They weren't afraid of it, and they went after it today. It was neat to see."
One of the ninth-graders ahead of Renfro was Baldwin's Heather Garcia, who ran a great race and finished seventh with a 4,000-meter time of 16:06.58. Garcia was one spot behind Free State's Alysha Valencia, who struggled by her standards but still beat most of the field in 16:03.90, good for sixth place.
"I think she may have been overly concerned about doing well at this meet," FSHS coach Steve Heffernan said. "Sometimes in meets like this, you get a little nervous and maybe a little too nervous."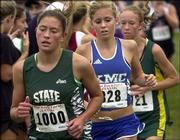 The boys varsity gold race, meanwhile, was one of the strangest in years. Thanks to the morning delay, the last boys race didn't get started until mid-afternoon, when the sun came out and made the weather hot and humid. Close to 10 runners were seen collapsing around the finish line, victims of dehydration, exhaustion and overheating.
Free State's Danny Schneider led the local talent, finishing the 5,000-meter race in 17:01.70, good for 21st place. The Firebird pack of Aaron Trent, Alex Rock and Spencer Martin wasn't far behind, helping lead Free State to a 13th-place finish as a team. Blue Valley North and Emporia were the only Kansas schools to place ahead of Free State. Baldwin was 16th, while Lawrence High was 26th.
Despite the respectable showing by FSHS, Heffernan feels more can be expected out of his boys team as the season progresses.
"We didn't have any aspirations of winning the meet," Heffernan said, "but we wanted to see how we could do against ranked teams in the state. We might've gotten out a little bit fast. I might've gotten them a little too hyped up at the start."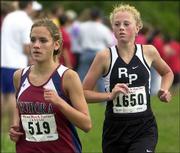 Iowa City (Iowa) West won the girls varsity gold race, placing four runners in the top 15. Liberty, Mo., dominated the boys race, finishing with 60 points. Second-place St. Louis University High was well back with 156 points.
Rim Rock stays quiet for high school competition for almost a month now. The Frontier and Delaware Valley league meets will take place there Oct. 14, with the Sunflower League meet being held there two days later. The Kansas Class 6A and 5A meets will be at Rim Rock on Oct. 30.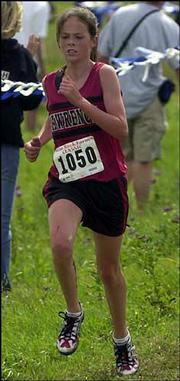 Copyright 2018 The Lawrence Journal-World. All rights reserved. This material may not be published, broadcast, rewritten or redistributed. We strive to uphold our values for every story published.