Lawrence took its 150th birthday celebration to new heights Saturday with a Sesquicentennial Parade that dodged thunderstorms and delighted thousands who gathered along Massachusetts Street.
The parade featured almost anything onlookers could ask for, including marching bands, floats, fire trucks, turn-of-the-century bicycles, antique cars, horses, politicians and even trash trucks.
"Lawrence is really great with parades," said Mianne Irick, Lawrence, as she watched with her husband, Larry. "It doesn't matter whether it's big or small, the people will always participate and turn out for it."
For a while, it looked as if the rain-or-shine Sesquicentennial Parade was going to be the former. A series of thunderstorms rolled through the area early Saturday morning, bringing with it torrential downpours. It rained again shortly before parade time, drenching participants as they got in line on the streets around Buford M. Watson Jr. Park.
But just as suddenly as it came, the rain ended.
"We were blessed," said Clenece Hills, president of the Lawrence Sesquicentennial Commission, the parade's sponsor. "I think the rain kind of revved everybody up."
Weather adjustments
Most of the floats survived the rain with few problems. Wayne Whitney pulled the Rotary Clubs of Lawrence float downtown with his tractor during the storms. He had on rain gear and stayed dry.
"The float dried out pretty quick," he said, noting the red, white and blue decorations on it were made of plastic.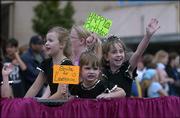 Employees with Pearson Government Solutions had to make some changes on their float, which depicted different aspects of Lawrence's history.
"This is only about half the float we made," Cherry Kelly said. "We had to make some adjustments. We had a lot of good efforts."
With the rain over, parade watchers were eager for the show to begin.
Reasons to watch
Russell LaForce, Lawrence, said he would have watched the parade no matter what the weather was. He found a spot at the corner of 11th and Massachusetts streets from which to watch.
"My son plays trombone in the Free State (High School) marching band," LaForce said.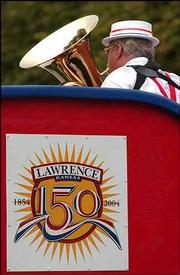 Clarence Henry, an assistant professor of ethnomusicology at Kansas University, came to watch and videotape the float for "African-American Churches in Early Lawrence."
"This is my first important local event, in terms of history," said Henry, who has lived in Lawrence for three years and helped work on 19th-century spiritual music for the float. As the float went through the 700 block of Massachusetts Street, several people onboard sang "Wade in The Water," accompanied by an organist.
Dieter Holst, a native of Eutin, Germany, one of Lawrence's two sister cities, said he was impressed by the entire parade. "It was very beautiful. I especially liked the music," he said.
Holst, who is making his first visit to Lawrence, is staying with host family Lee and Darcy Gerhard. The Gerhards said their favorite part of the parade was the KU band marching in their new uniforms.
Wearing a long, black coat and a wide-brimmed hat, Doug Schema walked his horse behind the Journal-World's building before the parade began. Schema said he was costumed as an itinerant minister from the 1880s. His horse, Dude, was still shaken from the thunder earlier in the morning, and Schema walked the beast in a circle to calm him. As part of the First United Methodist Church procession, Schema rode Dude using a replica of an 1885 saddle.
Making impressions
The parade left a big impression on Burt Larson, who was visiting Lawrence from Hays.
"You certainly got a good coordinator," Larson said. "I think every organization in Lawrence was in it."
Even the man who started it all, city founder Amos Lawrence, would have been happy with the parade and the celebration, said Charles Derby, a descendant of Lawrence's.
"I think he'd be proud to see what the city has done and what it has become," Derby said.
Copyright 2018 The Lawrence Journal-World. All rights reserved. This material may not be published, broadcast, rewritten or redistributed. We strive to uphold our values for every story published.