As a designer specializing in creating advertising brands, Gregory Thomas has built a career on getting people to notice whatever he's working on.
Now that he's chairman of Kansas University's department of design, he doesn't plan to change. But he isn't just interested in getting potential students to notice the department. He's making it a top priority to get the business world to notice, too.
"We're going to be very active going out into the business community in the Kansas City and Lawrence areas," Thomas said. "We have a lot of the tools and teaching techniques at the school, but we have to be able to tell students that this is what we do with them."
Thomas, who began his job Aug. 1, wants to create a de facto design company within the department of design, which is part of the School of Fine Arts. He envisions having students work directly with half a dozen national companies with ties to the region. Because the department offers a variety of majors, it would be able to work on projects ranging from designing an annual report to branding for a product or even interior design. The school would charge the companies a fee that would vary depending on the project. The department also would do a handful of "pro bono" projects for area nonprofits or small companies that can't afford traditional design companies.
Thomas said department officials last week met with a potential client that he would identify only as a major aerospace company with ties to the Wichita area.
"We have to be careful that we're not perceived as a competitor to the design firms in the area, but one of my big goals is to really embrace the business community," Thomas said. "We want to form lots of partnerships and alliances."
He thinks there may be good reasons for companies to seek out a university to work on a project rather than a traditional design company that often focuses on just one specialty.
"We have a number of different majors here," Thomas said. "We have product designers, we have interior designers, we have textile designers. If you are going to design, say the interior of an airplane, it would seem very logical to have people from all those specialties working together. We have a lot of resources under one roof that can be of benefit to companies."
Business background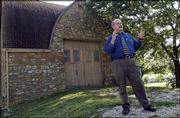 Thomas is used to the idea of running a company. In the early 1970s, he founded Gregory Thomas Associates, a Los Angeles-based design firm that does a variety of branding projects for clients ranging from Los Angeles International Airport to the government tourism boards of Australia, New Zealand and Austria.
He is still the company's owner but is less involved in its day-to-day operations. Thomas has had stints in the world of academia as an adjunct professor at the University of Southern California's School of Fine Arts and as acting chairman of graphic design at the Art Center College of Design in Pasadena, Calif.
But Steve Hedden, dean of KU's School of Fine Arts, said it primarily was Thomas' business experience that captured the search committee's attention.
"We realized that so many of our students in the design department -- students in the interior design, industrial design and graphic arts -- are going to leave the university and end up working for clients in the business world," Hedden said. "We really felt it was important to have somebody who understands that process very well."
Among the high-profile clients Thomas has worked for: CBS, IBM and Seagram's International. In the early 1980s his company branched out into the world of international tourism and began working with Australian officials to capitalize on the "Crocodile Dundee" movie phenomenon that was drawing attention to the country.
His biggest problem to tackle with that project was convincing tourists it was worth the 14-hour plane ride to Australia. Eventually he came up with a campaign that did.
"So, I figure if I can get somebody to get on an airplane for a rough flight for 14 hours with questionable food, then why can't I get students and businesses to come here?" Thomas said.
The FARM
Thomas has an idea for a gimmick to attract attention. He calls it the FARM, which stands for the Fine Art Research Matrix. Thomas is working on plans to convert an old stone house and barn that are located on the university's west campus into an "MIT-style" research lab for design projects.
The two buildings -- which are along Bob Billings Parkway and are known as the Chamney House and Chamney Barn -- would be gutted and equipped with high-speed Internet access, state-of-the-art multimedia equipment and specialized computers and printers used in the graphic design industry. For the vision to become reality, agreements still need to be reached with the KU Endowment Association. Thomas estimates the project will need about $2 million in funding.
But he thinks it would be the type of project that would attract the attention of businesses and students.
"The perception on either coast of Kansas is that we're all a bunch of hicks, and why would anybody go there because it is all farmland," Thomas said. "So we decided to have some fun with the name and call it the FARM, but when they get here we want to blow them away with something they never expected."
That would be welcome news to students. In 2001, nearly 150 students signed a petition criticizing the size of the department's faculty and the department's technology.
New funding -- including a $500,000 grant from Hallmark and a $15-per-credit-hour fee approved by students in the School of Fine Arts -- has helped improve the situation somewhat, said Katy Brown, a junior design major.
"It is not that we're terrible, but there's still a lot that can be done," Brown said. "Like our lab space is not very impressive. But I think he understands how important it is for us to have up-to-date technology."
The greater emphasis on reaching out to the business community also is appreciated. Elyse Briscoe, a freshman in the design program, said she thought it would give students hands-on experience and help them find jobs after graduation.
"Everybody asks you what you're going to do with a fine arts degree," Briscoe said. "I know that was my mom's big concern. She kept asking if I was going to be a starving artist."
Copyright 2018 The Lawrence Journal-World. All rights reserved. This material may not be published, broadcast, rewritten or redistributed. We strive to uphold our values for every story published.