Former Mayor Ernest Angino grabbed people walking in front of the Watkins Community Museum and showed them the big yellow sign hanging from a small table.
It read, "Official Sesquicentennial Celebration Station: Stamp Cover and Cancellation, only $5!"
"That's what it's all about," Angino said, holding up a tan envelope with the sesquicentennial stamp.
"The money's a donation," he told a passer-by. "It all goes to the Sesquicentennial Commission."
Buck Newsom, a member of the Lawrence Stamp Club, stood next to Angino while he showed passers-by the specially prepared stamp.
"He's probably the most knowledgeable stamp guy in Lawrence," Newsom boasted of his fellow stamp club member.
But most of the people walking down the sidewalk had young faces and long gaits. Not many stopped.
Then, 10-year-old Marti Belot stopped with her mother and grandmother. Angino told her mother how to care for the envelope.
"If you're going to mail it, put it in another envelope so they won't get buggered up," Angino said.
Belot held the envelope out in front of her. She looked at it with her head tilted.
"What are we going to do with it?" she asked.
"We're going to save it," her mother said. Belot shook her head.
Later, Pat Lechtenberg stopped at the small table and paid for seven canceled stamps. She carefully stacked each one on the table.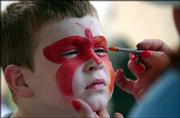 "These are for my grandchildren," she said.
Unless young people grew up with stamp collectors, they probably wouldn't understand the importance of a once-in-a-lifetime stamp cancellation, Lechtenberg said.
"But I figure they'll be around when Lawrence celebrates its next big birthday in 2054," she said. "Maybe then they'll appreciate what these stamps stand for."
At the end of the morning, Newsom said that just less than half of the 500 envelopes printed had been sold, raising close to $1,000 for the Sesquicentennial Commission.
"But I don't know," Newsom said. "They could have sold a lot more in the afternoon."
Any unsold stamps will be available today at the time capsule event at Sesquicentennial Point.
For those unable to purchase a stamp, the main post office in Lawrence will put the sesquicentennial cancellation on anything with a 37-cent stamp on it for the next 30 days, organizers said.
Copyright 2018 The Lawrence Journal-World. All rights reserved. This material may not be published, broadcast, rewritten or redistributed. We strive to uphold our values for every story published.