Not even the magic of homecoming could cure Free State High's football team of its big-play blues.
The Firebirds allowed Shawnee Mission Northwest to break off too many big plays, and then made too many big-time blunders of their own as they dropped a 26-13 decision Friday night at Memorial Stadium.
"We have a tendency to shoot ourselves in the foot, there's no doubt about that," FSHS coach Bob Lisher said. "We just have to do a better job of coaching so these kids don't make those types of mistakes. We're just not getting our point across well enough, and we've just got to keep pushing.
"Our kids are giving the effort we need. It's just that we have little slip-ups now and then, and we've got to take blame for that as coaches. We've got to make sure they don't make those mistakes."
It was the same story for the Firebirds (0-3), who turned the ball over four times in their season-opener, and then were buried by a kick return for a touchdown and two more late scores last week. All that has changed was the opponent.
Free State seemed to control the game for the better part of three quarters, leading late in the third quarter before the mistakes caught up with them -- again.
Two fourth-quarter fumbles, a snap that flew over quarterback Nick Witmer's head and a 61-yard touchdown romp by SMNW running back Tyler Shephard put a close game out of reach.
"Our kids know they can be a good football team if we eliminate mistakes, and that's been our biggest bugaboo since day one," Lisher said. "It's not a matter of experience any more. It's just a matter of not turning the ball over. It's a matter of not doing the stupid penalties. It's a matter of execution. Right now, we're struggling in the toughness part of executing."
Northwest's Robert Pedroza returned the opening kickoff 52 yards to the FSHS 36-yard line which seemed to foreshadow that more trouble was looming. SMNW receiver Austin Koch made an acrobatic catch in the end zone eight plays later for an 11-yard score. Free State senior Jamie Resseguie blocked the extra-point attempt, and the Cougars led, 6-0.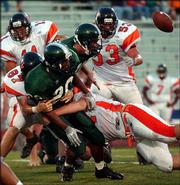 Free State responded with a 21-play drive that used 10:02 down to the Northwest 9-yard-line, but it fizzled out after a series of penalties.
The Firebirds took a 7-6 lead with 4:02 remaining in the first half when sophomore running back Brian Murphy broke free down the right sideline for a 42-yard touchdown. His run was sparked by a bone-crushing block by homecoming king Jarvis Doleman.
The lead didn't last, however, because Northwest marched 98 yards in the next four minutes and took a 12-7 lead on another Koch touchdown.
"We didn't do a very good job executing our defense tonight," Lisher said. "We can't let a team get outside on us, get inside on us and not make plays."
A poor third-quarter punt by Northwest gave Free State the ball on the SMNW 33-yard line. A six-play drive led to another Murphy touchdown run, this time from three yards out. The extra-point attempt failed, and FSHS led, 13-12.
Northwest answered with a 69-yard scoring drive and took a 19-13 lead with 1:15 left in the third quarter. Free State gained 24 yards on its next three plays before the quarter ended, but on the first play of the fourth quarter history caught up with the Firebirds again.
Resseguie fumbled deep in Northwest territory, stalling a FSHS drive. Then, with five minutes remaining, Murphy dropped a handoff, recovered it and fumbled again when he was hit. That turnover was followed two plays later by Shephard's 61-yard sprint that effectively ended the game.
"It just comes down to not making mistakes," Lisher said. "We were moving the football whenever we needed to move the football, but we'd get a penalty that'd set us back, or we'd turn the ball over. We've just got to do a better job coaching to protect the football and do those things."
Murphy led the Free State offense with 149 yards rushing on 25 carries. Quarterback Nick Witmer completed 10 of 19 passes for 76 yards.
The Firebirds next play Friday at Shawnee Mission West.
Copyright 2018 The Lawrence Journal-World. All rights reserved. This material may not be published, broadcast, rewritten or redistributed. We strive to uphold our values for every story published.