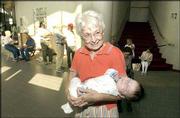 Tom Waller knew exactly why he was in line Monday morning at the Lied Center, hoping to get tickets to see the U.S. Marine Band.
"The John Philip Sousa marches," Waller said. "I love them."
Waller was one of about 1,500 band lovers who received free tickets to see the Marine Band, which will perform at 7:30 p.m. Oct. 13 at the Lied Center.
Michelle Traband, director of the Lied Center box office, said she expected the remaining 500 tickets to be claimed by the end of the day. The box office opens at 11 a.m.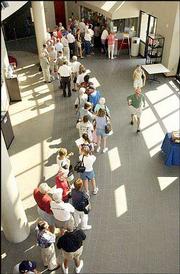 The band spends most of its time at the White House, appearing more than 200 times a year for various ceremonies, dinners and receptions and to accompany popular entertainers.
It also has toured the nation every year since 1891, during Sousa's tenure as band director.
The October performance, sponsored by the Journal-World and the Lied Center, is the group's third Lawrence performance since 1989. All have been sold out.
Cletis Converse was another band fan who waited in line Monday to get a ticket.
"I've always come and enjoyed it," she said. "I played in a band when I was in school. I enjoy the band so much."
Copyright 2018 The Lawrence Journal-World. All rights reserved. This material may not be published, broadcast, rewritten or redistributed. We strive to uphold our values for every story published.