The Air Force jets that flew over Kansas University on Saturday were perhaps a somber reminder of what Sept. 11 three years ago was like and why Americans then said things would never be the same.
But it was hard not to think that normalcy reigned in Lawrence on the anniversary of that terrible day, despite uncertainties about the wars in Iraq and Afghanistan.
In South Park, people danced the polka. A line of marching bands paraded down Massachusetts Street, and mild weather for a football game at KU's Memorial Stadium made the terror that gripped America three years ago seem somewhat distant.
"I still feel the pain for those who lost people in that tragedy, but I hope they are able to pull it together and get on with their lives," Lawrence resident Janice McClure said.
McClure sat in a lawn chair and joined a throng of perhaps thousands who lined both sides of Massachusetts Street to watch the annual Kansas University Band Day parade.
Several hours later, at KU's Memorial Stadium, the reality of 9-11 and wars against terrorism in Iraq and Afghanistan were brought to the forefront when two Air Force jets roared over the 41,251 people who turned out to watch KU's football team defeat Toledo.
David Atwood watched the parade while halfway around the world his son, Thomas J. Atwood, was guarding an American air base in Iraq. In fact, the Atwood family experienced the reality of terrorism five years prior to 9-11. On June 25, 1996, Thomas J. Atwood was standing on the roof of a building behind a Khobar Towers apartment building in Dhahran, Saudi Arabia, when it was struck by a terrorist bomb. He was not hurt, his dad said.
David Atwood takes it all in stride and doesn't allow himself to be overcome with worry about his son or the possibility of another terrorist attack in the United States.
"My day has just been the same," Atwood said. "It doesn't do any good to change anything."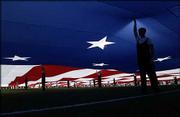 Nearby, Phil Bentzinger recalled being in a Colorado Springs, Colo., hotel room "glued to the television" watching the events of 9-11 unfold. Today he questions whether going to war was worth it.
"If we used all the money we spend on the military on more peaceful means and goodwill, we might have more of an effect and come out ahead," Bentzinger, of Lawrence, said.
Activity-filled day
The parade wasn't the only attraction in downtown Lawrence. Throughout the day people gathered in South Park for the fourth annual Oompahfest Family Fun Festival, organized by the Immanuel Lutheran Church and University Student Center.
They ate German cuisine that included sauerkraut and bratwursts and washed it down with soft drinks or German beer. Polka music filled the air as German folk dancers performed nearby. The wait in the food line at one point stretched to 20 minutes because of the crowd, one bystander said.
As the festival neared its conclusion at the end of the afternoon, festival chairman John Fries estimated at least 2,500 people had showed up.
"I think we've had the biggest crowd ever," Fries said. "It just gets bigger and better every year."
Campus events
On KU's campus, a flag-raising ceremony near the Dole Institute of Politics marked the 9-11 anniversary.
KU also conducted its annual open house. Several academic departments opened their doors so the public could see what is being taught.
At Foley Hall, located on West Campus, it appeared 9-11 was the last thing on people's minds as they marveled over the beauty of the monarch butterfly and other species of butterflies. The hall is the headquarters of Monarch Watch, a program designed to protect and inform the public about the monarchs.
Robert and Christina Messineo, of Lawrence, brought their children, Kimberly, 9, and Robbie, 2, to see the butterflies. Kimberly and her mother had taken part in monarch-tagging operations at the Baker Wetlands. They planned to do it again for this year's annual event, scheduled for Saturday. This time they will bring Robbie.
"I was pregnant with him when we did that two years ago, so unofficially he's already been there," Christina Messineo said with a laugh.
Three years ago the monarch-tagging at the wetlands came a few days after 9-11. There was some consideration about calling the operation off, said Orley "Chip" Taylor, a KU professor who heads Monarch Watch. The tagging, however, went on. More than 360 people showed up and within four hours a record 2,800 monarchs were tagged, Taylor said.
"I remember a lot of people came up and told me how pleased they were that we didn't cancel it," Taylor said. "This was something that took them away and allowed them to escape from the constant talk about 9-11."
Copyright 2018 The Lawrence Journal-World. All rights reserved. This material may not be published, broadcast, rewritten or redistributed. We strive to uphold our values for every story published.