Lawrence High seniors Cara Breeden and Sarah Nichols don't appear to be the most imposing players on the tennis court, given their almost constant smiles and laidback nature. But steal a game from them, and the aggression is bound to come out.
Olathe South's Janelle Bertagnole and Jen Ackerly found that out the hard way Wednesday at an LHS triangular, and they have Shawnee Mission South's Kayla Wright and Jennifer Gerlach to thank for it.
In the first session between LHS and SMS, questionable "out" calls from Wright and Gerlach fueled some heated tempers in a controversy-filled match that the Raiders won, 8-7, in a tiebreaker.
Another scoring squabble emerged against O-South when Nichols accidentally credited Bertagnole and Ackerly with an extra point. When she corrected the score, South's coach protested and blamed Nichols for the error and a five-minute debate ensued.
"Where there was that dispute over the score, Sarah could've just packed it in right there," LHS coach Dick Wedel said. "She was upset that it was her fault, that (the OSHS coach) was mad at her, but she pulled it together, and she made her serves and she made her returns. I was just delighted with that."
Nichols and Breeden blended crafty net attacks and aggressive smashes from the back and rolled to an 8-4 victory. Not bad for a doubles pair that only began playing together at practice Tuesday.
"We just caught on to how each other plays," Nichols said of how the pair jelled almost instantly. "I think because we wanted to win so badly, and after that whole thing with the point and the other coach, we decided we were going to do this and win."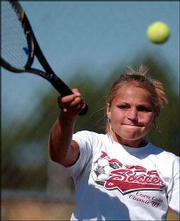 Their win capped an up-and-down day for the Lions, who dropped their opening series with SMS, 4-0, before bouncing back with a 3-1 whipping of O-South that was anchored by Breeden and Nichols' win.
Other LHS winners were junior Meredith Bush, who cruised to an 8-1 win at No. 1 singles against OSHS' Brittany Klassen, and senior Amy Bullerman and sophomore Lauren Kelly, who beat the Falcons' Jennifer Getts and Julie Coleman, 8-3.
Wedel said he was proud of his entire squad, which he said competed better than it did in its first two tournaments at Leavenworth and Blue Valley Northwest.
"They played hard," he said. "They didn't give up. I was just real pleased."
The Lions next play at 9 a.m. Saturday at Emporia.
Copyright 2018 The Lawrence Journal-World. All rights reserved. This material may not be published, broadcast, rewritten or redistributed. We strive to uphold our values for every story published.