Baldwin — Andra Getty, just as countless mothers had once done for decades before her, stood in the Baldwin Santa Fe depot with her children Saturday waiting on a train.
"It will be their first train ride and they are looking forward to it," Getty, of Lenexa, said of her son, Cameron, 19 months, and daughter, Marissa, 3. "She (Marissa) is always talking about trains."
Waiting with Getty was her sister from Des Moines, Iowa, Kerri Dwane. It also would be the sisters' first, old-fashioned American train ride, although both said they had ridden on a high-speed urban train in Tokyo.
"Does that count?" Getty asked with a chuckle.
The Midland Railway Historical Assn.'s annual Railfans Weekend is offering a series of excursion rides on trains with a variety of different cars, cabooses and engines that once traveled under such railroad names as Rock Island Line, Santa Fe and Kansas City Southern. The trains will run at various times today and again Monday during the Labor Day holiday.
Included among the rail cars is one once used as a railway post office with mail-sorting equipment still intact. Retired railroad mail clerks are aboard to talk about what they once did.
Saturday morning about 50 people arrived for rides aboard an all-caboose train ride to the former town site of Norwood and a passenger train ride to Ottawa. Getty and Dwane were planning to board a mixed freight-car train bound for Ottawa.
Many people who visit Midland have never ridden on a train, said Dean Hall, Raytown, Mo., one of dozens of regional volunteers who operate and maintain the railway and its trains.
"Others come to reminisce about riding trains or maybe they used to work on one," Hall said.
"We get some people who just like to know about the equipment," said Rob Clark, Lansing, another volunteer.
This year some of the trains are taking riders on an extended tour to Ottawa. Thanks to a $500,000 federal grant, the railway was able to build and renovate track that once ran about 5 miles from Norwood to the Ottawa junction at the north edge of the town.
The entire track route crosses through a mixture of open and wooded areas and goes over several trestles.
"Mainly we do this for the kids," said Russ Hayden, a Midland volunteer from Shawnee. "We're really just kids who have grown up, that's all."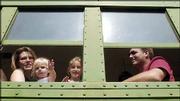 A total of four train rides are scheduled today and Monday at the Midland Railway. There are adult and children ticket fees and fees for groups. For more information call (913) 371-3410 or (800) 651-0388.¢ All caboose train to Norwood, 9:30 a.m.¢ Passenger train to Ottawa, 11 a.m.¢ Mixed freight train to Ottawa, 1:30 p.m.¢ Passenger train to Ottawa, 4 p.m.
Copyright 2018 The Lawrence Journal-World. All rights reserved. This material may not be published, broadcast, rewritten or redistributed. We strive to uphold our values for every story published.