For the fourth straight year, Jayhawk football fans will be able to enjoy a beer or cocktail while grilling near Memorial Stadium.
And as the tailgating season officially opens today, three hours before a 6 p.m. game against the University of Tulsa, Kansas University administrators say they have no plans to change the campus drinking policy.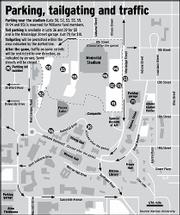 "I think people are certainly enjoying it," said Lynn Bretz, a KU spokeswoman. "The fans appreciate it. It's for our fans. They wanted to have responsible tailgating, and they're following the guidelines, so we'll keep it going."
As in past years, KU fans can drink alcohol beginning three hours before kickoff in designated lots around the stadium. Drinking must stop at kickoff.
The three-hour alcohol window won't be expanded because of the big-screen broadcast of the KU basketball game at Memorial Stadium. The game against the University of British Columbia begins at 2 p.m.
The drinking policy is part of the "Proud to be a Jayhawk" fund-raiser. Under Board of Regents and KU policies, alcohol can be consumed only during fund-raising events.
One dollar from every KU football program sold in the tailgating areas goes to the Korean War Memorial Fund, Spirit Squad, sports clubs and the Nichols League student leadership fund, which provides programs for leadership development.
Last year, $3,352 was raised for the marching band, sports clubs, war memorial and leadership programs.
Capt. Schuyler Bailey of the KU Public Safety Office said his department arrested six people last year because of drinking-related problems while tailgating -- four for consumption in public and two for being a minor in possession.
"That number reflects the fact that most people who come and tailgate comply with the established rules," Bailey said. "It's also important to note that many people come out and enjoy the tailgating atmosphere without consuming alcohol."
Copyright 2018 The Lawrence Journal-World. All rights reserved. This material may not be published, broadcast, rewritten or redistributed. We strive to uphold our values for every story published.