New uniforms won't be the only difference Kansas University football fans will notice today about the Marching Jayhawks.
Boosted by excitement over the new uniforms and last winter's appearance in the Tangerine Bowl, the band has grown by more than 42 percent. Membership surged by 55 musicians, giving the band 185 members and a bigger sound.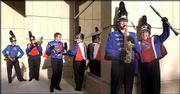 "We had a good nucleus of last year's band come back, and we have a great freshman class," said Jim Hudson, the director. "I'm really pleased with the work the kids have put in. We're really fired up."
The larger band will be unveiling its brand-new duds during today's football opener against Tulsa. Kickoff is at 6 p.m.
The uniforms were the result of "Feather the Flock," a fund-raising campaign spearheaded by the Journal-World in cooperation with the Topeka Jayhawk Club, School of Fine Arts, KU Athletics and KU Endowment Association.
Led by a newspaper campaign last spring, the fund drive raised $150,000 to replace the old uniforms, some of which were 22 years old and literally held together with duct tape.
Today's game will highlight the versatility of the new uniforms, which feature several options with reversible breast plates, capes and overlays.
Hudson said the pregame look would highlight the "traditional" KU look similar to the previous uniforms, while the halftime show would feature a look similar to even older uniforms, with a triangle and bars on the front.
The halftime show will feature music from "The Wizard of Oz" and a recognition ceremony for those who donated uniforms.
KU ordered 300 new uniforms, with hopes of expanding the band. Hudson, who is starting his second year as director of athletic bands, said the uniforms, the bowl appearance and more visits to high schools helped increase membership.
"It's all about getting out and recruiting and marketing yourself," he said.
Evan Billings, a junior mellophone player who was involved in the uniform selection process, said football fans should be impressed with what they see on the Memorial Stadium field.
"I think we're light years ahead of where we were last year," Billings said. "I think last year we were a different band from the year before. We want to build on that success."
Copyright 2018 The Lawrence Journal-World. All rights reserved. This material may not be published, broadcast, rewritten or redistributed. We strive to uphold our values for every story published.