Arundhati Pal came a long way to be with her parents this weekend in Lawrence.
Pal, 23, a 2000 graduate of Lawrence High School, is working toward degrees in biochemistry and international relations at the University of Washington in Seattle, but wanted to travel back home to celebrate the Hindu festival of Durga Puja.
"It's my time to be here with my family and friends. It's a special time to me," said Pal, who spent her early childhood in Calcutta -- capital of the Indian state of West Bengal -- but grew up in Lawrence.
She joined her parents, Lawrence residents Dhananjay and Ranu Pal, in attending the 10th annual Midwest Sarbojanin (community) Durga Puja Saturday at the Douglas County 4-H Fairgrounds.
About 350 Hindus came from across Kansas, Nebraska, Missouri and Iowa to participate in the all-day event, which is the religious, cultural and social highlight of the year for Bengalis everywhere -- equivalent to Christmas and Thanksgiving rolled into one.
The event focuses on worship of the Hindu mother goddess Durga, who is seen as the embodiment of "shakti" (divine power). She is believed to deliver human beings from evil, as well as bring peace and prosperity into their lives.
This was the third time that Lawrence's small Bengali community has been host to the Durga Puja festival. The Bengalis in Lawrence take turns organizing with Bengalis in the Kansas City area. The last one in Lawrence was in 2001.
Building 21 was alive with the sounds of drumming, ringing bells and Sanskrit chanting. The air was perfumed with burning incense and the aroma of homemade Bengali dishes.
Men and women dressed in traditional Indian clothing made of rich, colorful fabrics, socialized while children played.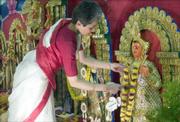 It was a flavorful taste of Calcutta, right here on the Kansas plains.
Ranu Pal, Arundhati's mother -- and a research scientist in the department of pharmacology and toxicology at Kansas University -- explained what Durga Puja is like in her native West Bengal.
"I think it is important for all Bengalis. We can bring our families together, wear new clothes and get to enjoy our lives as a whole. We cook delicious foods, go to restaurants -- we are busy all day doing something," Ranu said.
Her husband, Dhananjay, is an associate professor in the School of Pharmacy at the University of Missouri-Kansas City.
In West Bengal, Hindus celebrate Durga Puja over four days. In the United States, the festival typically is condensed into one day, according to Pritthijit "Raja" Kundu, a Lawrence architect who helped organize the Saturday event.
"To me, this is a celebration of life and world peace. We worship a lot of gods and goddesses through the year, but Durga is important to us because without world peace, we don't have anything," Kundu said.
"This is a universal message: Our goal is world peace, and Durga represents that."
Copyright 2018 The Lawrence Journal-World. All rights reserved. This material may not be published, broadcast, rewritten or redistributed. We strive to uphold our values for every story published.