Seven Lawrence High seniors wore leis around their necks and carried brightly colored flowers Tuesday night inside the LHS gym.
Up in the stands, their parents were equipped with objects made of straw.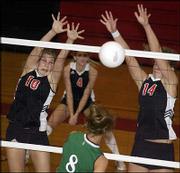 With a plethora of dishes of food in a nearby room, the Lions looked like they were having a typical Hawaiian luau right down to the celebration on the volleyball court.
Still a party's a party, and after their first sweep of the season, it wasn't just Lawrence High's volleyball seniors that were celebrating their final regular-season home match.
"Those parents can be pretty crazy," Lawrence senior Drew DeBiasse joked of a trio of senior parents that were wildly waving straw brooms in the stands in support of Lawrence High's quadrangular sweep of Leavenworth Immaculata, Topeka West, and Emporia.
Tuesday night's victories -- which were all lopsided, two-game wins -- were the Lions' first three-match sweep of the season, and a final prelude to the Class 6A sub-state Lawrence High will play host to on Saturday. That's why it was easy to understand the raucous crowd's enthusiasm.
"It's just so awesome, almost like a dream, to have everything go perfect the way it did in our final home match," senior Abby Schwartz said of Lawrence's victories over Immaculata (25-13, 25-15), Topeka West (25-10, 25-11), and Emporia (25-17, 25-11).
Lawrence High coach Jo Huntsinger also was impressed.
"It's very special to have the seniors end their careers here with such an involved atmosphere. These parents have just been great and have supported us to the end of the earth," said Huntsinger, whose squad improved to 17-12.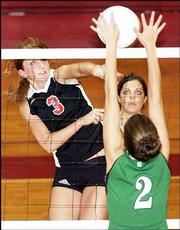 "But even better is that we played really, really well tonight."
It certainly seemed like the seven seniors -- DeBiasse, Elise McDonald, Carolyn Raynes, Bobi Riley, Schwartz, Bonnie Toplikar, and Jessica Vinoverski -- weren't going to settle for anything less than a sweep.
"We always knew that physically we were capable of completing the sweep," said Schwartz, who noted that despite the Lions' tough schedule, Lawrence High finished 2-1 in at least a few quads.
"But tonight we decided to finish the task. That can only give us even more confidence during this time of year.
While Huntsinger said she also hopes that her team is peaking at the right time, DeBiasse wouldn't mind waiting at least one more week.
"I couldn't really image Senior Night going any better," DeBiasse said. "But I could imagine a better ending to our senior seasons coming at the state tournament."
Copyright 2018 The Lawrence Journal-World. All rights reserved. This material may not be published, broadcast, rewritten or redistributed. We strive to uphold our values for every story published.