Korianne Daboda was nervous about her child's safety at school four years ago, but then she went to Kennedy School and received a tour that put her mind at ease.
It wasn't until later that she learned it was Kennedy's principal, Clim Clayburn, who had patiently shown her around and answered her questions.
"I didn't even find out she was the principal until we got back into the office," Daboda said. "I'm sure she had other things to do. But she took the time to make sure I was educated and knew what was going on and that I felt comfortable. That's just how she is."
For 15 years, Clayburn has been an administrator in Lawrence public schools. She announced Thursday that she would retire at the end of the year.
"I have worked with some brilliant people at every level of the district," Clayburn said. "The whole community embraced me and allowed me to be part of an exciting city. The students and parents that I have had the opportunity to work with will always have a special place in my heart."
Clayburn is in her eighth year as principal at Kennedy. She came to the district in 1990 as principal at East Heights School.
She earned a bachelor's degree from Kansas Wesleyan University, two master's degrees from Kansas State University and a doctorate from Kansas University. Before joining the Lawrence district, Clayburn taught in Salina, Olathe, De Soto and Jacksonville, N.C., where she also was an administrator.
Lawrence Supt. Randy Weseman described Clayburn as a compassionate and dynamic leader.
"I have tremendous respect for her 15 years of service to Lawrence students and staff, and her 32 years in public education," Weseman said.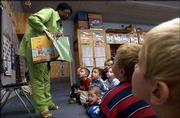 District officials will begin the search for a new principal immediately.
Clayburn's shoes, however, will be difficult to fill, said Daboda, who has been involved with the school's site council and Parent-Teacher Organization.
"I have mixed emotions," she said. "I am very excited for her to retire and do some of the things that I know she's been wanting to do. On the other hand, I think that she is an awesome administrator and she really cares about the families and kids at Kennedy. So, it's going to be kind of hard to go on next year without her being there."
Clayburn also taught this year. She decided at the end of the last school year to help with the kindergarten classes.
"Times have changed and I always try to keep current with the times and I wanted to make sure that I would be able to do things that I would ask the teachers to do," she said.
Clayburn said teaching was her first love and that being with students in class energized her.
"They've always been that for me," she said.
Copyright 2018 The Lawrence Journal-World. All rights reserved. This material may not be published, broadcast, rewritten or redistributed. We strive to uphold our values for every story published.