STULL — Cancer patients getting treatment at Lawrence Memorial Hospital won't have to worry about finding comfortable hats to wear, thanks to members of the Stull community.
More than a dozen people, including youths from the Stull Busy Beavers 4-H group, showed their holiday spirit Saturday by making round cloth hats to be donated to the hospital's Oncology Center.
By the time they called it quits about five hours later in the basement of the United Methodist Church, 251 North 1600 Road, volunteers had a stack of more than 100 hats of various sizes.
"This is a community effort sponsored by the church," Gayle Vannicola said. "It's the first time we've done this. We hope it will become an annual after-Thanksgiving event."
The hat makers set up an assembly line operation with volunteers assigned to specific tasks, including cutting material, sewing, ironing and even quality control. Initially they were churning out hats every 15 minutes, Vannicola said.
The hats are made of light knit material and shaped like a beret. Residents donated the materials. Attached to each hat was a small card with a message: "A gift to you from the Stull United Methodist Church." The message went on to note some members of the church also have experienced cancer treatment.
Vannicola is a cancer survivor. During her treatment she lost her hair and found out how difficult it was to find a decent hat to wear.
"I didn't want a wig," she said. "I wanted a hat that was comfortable. They are hard to find."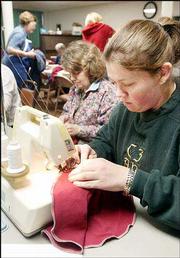 Another volunteer, Nicky Lenth, was cutting cloth used to make the hats. One of the hats will be sent to her father, who lives in Rhode Island. He is now undergoing cancer treatment, she said. His hat will be a bright orange, reminiscent of a hunter's outfit.
"He's always been the outdoors type," Lenth said.
Copyright 2018 The Lawrence Journal-World. All rights reserved. This material may not be published, broadcast, rewritten or redistributed. We strive to uphold our values for every story published.