Creating an old-fashioned Christmas parade in Downtown Lawrence doesn't come cheap.
That's why the organizers who stepped in to save the city's annual parade from going the way of the horse and buggy are asking for a last-minute flurry of donations this week.
Officials at Lawrence's CornerBank, which stepped in to save the parade after the former owner of the Eldridge Hotel said he could no longer sponsor the parade he founded 11 years ago, said they had received only about half the donations needed to pay for the event.
"I was a little bit surprised that we haven't received a few more sponsorships," said Jim Adams, community bank president for CornerBank. "We have had an amazing response from the entrants, given the late date that they were notified.
"I would just call on the community to recognize that they are giving of themselves and that we just need to respond in kind."
The parade, set for 11 a.m. Dec. 4 along Massachusetts Street, will include more than 250 horses, including 90 horse-drawn wagons and carriages. As in previous parades, this year's will be entirely horse-powered, meaning no bands, floats or motorized vehicles of any kind.
The parade is expected to cost from $14,000 to $16,000, Adams said.
When it agreed in September to become the parade's primary sponsor, the bank set up a fund-raising campaign. Businesses around the community were asked to make a $200 donation. Each business will receive a banner to be hung on the side of one of the carriages or wagons.
Thus far, the bank has received about 50 sponsorships. Adams said the parade needed to receive about 40 more to keep the event on budget.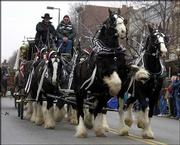 The parade is expensive to conduct because organizers decided to continue a tradition started by parade founder and former Eldridge Hotel owner Rob Phillips of giving a free motel room to any entrant who needs one. That means the organizers will be paying for about 80 hotel rooms.
The organizers -- who include Phillips, who runs Free State Farm; Bob Schumm of Buffalo Bob's Smokehouse; Stan Zaremba of Zarco; and representatives of Lawrence's Frontier Farm Credit -- also will be hosts to a dinner for parade entrants Friday night.
"We're expecting about 350 people, and it costs a pretty penny to feed that many," said Barbara Braa, a trust officer at CornerBank.
Plus, there are a lot of miscellaneous expenses, she said.
"You have to pay the street sweeper," Braa said. "You definitely don't want to forget the street sweeper with all those horses."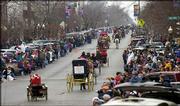 Adams said he thought the event was worth some community investment. He said he knew the parade attracted people to Lawrence who otherwise might not come to the city.
Parade entrants this year are coming from as far away as Texas. And Adams said the bank had been receiving phone calls from spectators as far away as Iowa who plan to attend, then stay the weekend and shop in the city.
"An event like this, with all the tradition it has built, you would hate to see it go away," Adams said. "That's why we became involved with it. It helps make Lawrence a special place."
Copyright 2018 The Lawrence Journal-World. All rights reserved. This material may not be published, broadcast, rewritten or redistributed. We strive to uphold our values for every story published.