When the Kansas University football team takes on Missouri for the 113th edition of the Border Showdown, it won't be pretty, won't be cordial and won't be in an environment that will welcome KU with open arms.
Pretty cool, huh?
"I think it's one of the best places to play, because they absolutely hate us," KU linebacker Kevin Kane said of Faurot Field. "It's fun to play in those environments. It gives you motivation to go up there and stick it in their face."
Kansas fans can only hope. The Jayhawks are eliminated from bowl consideration with a 3-7 record, and because of that, KU internally is hyping today's 1 p.m. game as the Jayhawks' bowl game in 2004.
And why not? There's a lot on the line for Missouri in the game, and a KU victory would be a sweet whiff of what otherwise has been a sour season.
Missouri, at 4-5, must beat the Jayhawks, then go to Iowa State and beat the Cyclones if it wants a bowl invitation for the second straight season.
Kansas can be a spoiler, and that's motivation enough.
The Jayhawks won last year's contest at Memorial Stadium in convincing fashion, 35-14, behind the heroics of KU quarterback Bill Whittemore on offense and the brilliant containment of MU quarterback Brad Smith on defense. Smith was held to just 95 yards of total offense (62 passing, 33 rushing), marking the only time in his career he has been kept below 100 yards.
The goal for the Jayhawks is to play as well as they did last year, but it's not a given. Whittemore's gone, stopping Smith again won't be any easier and this year most of the sellout crowd will be rooting for the Tigers, who are led by Smith's 1,773 passing yards and 493 rushing yards.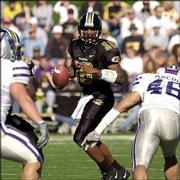 "We've got to keep a net around him," Kane said. "He's an elusive player. He can run the ball, he can throw the ball ... he can do it all. Last year, we did a pretty good job of containing him and putting pressure on him."
Smith's rushing numbers won't come close to matching his first two seasons in Columbia, where he totaled 2,435 yards and 25 touchdowns. Criticism has surrounded the Missouri program for limiting Smith's rushing abilities, but the junior still has the talent to scramble if the pocket collapses.
"We're always aware of his athleticism," KU coach Mark Mangino said. "That's always a factor when you play Missouri."
And that's because Smith is always healthy when MU plays. Kansas will start its fourth quarterback in four weeks when Brian Luke straps his helmet on today, following John Nielsen (ankle injury), Jason Swanson (shoulder) and Adam Barmann (shoulder) as quarterbacks to go down in each of the last three games. Smith, meanwhile, has started all 34 of Missouri's games while a member of the Tigers, and he'll be ready to go for number 35 today.
Kickoff: 1 p.m. today.Where: Faurot Field, Columbia, Mo.Line: Missouri by 11.Radio: Jayhawk Radio Network, including 1320 KLWN.Television: None.Series: KU leads 52-51-9.
It's a dandy, too. Both teams are looking for good endings to frustrating seasons, and neither KU nor MU can have that satisfaction without a victory today.
"This is a hugely important game," Missouri coach Gary Pinkel said, "and we all know how great a rivalry this is."
Copyright 2018 The Lawrence Journal-World. All rights reserved. This material may not be published, broadcast, rewritten or redistributed. We strive to uphold our values for every story published.