Nadine Billgen noticed the difference made by five years and a set of terrorist attacks.
In 1999, when she came to the United States from Germany to be a high school exchange student in Indiana, she got a student visa by filling out an application form and mailing it to U.S. officials.
This summer, when she was applying for a visa to study at Kansas University, she faced long lines for an interview at the U.S. Embassy, tough questions about her background and a round of fingerprinting and photographing.
"It's very intimidating," said Billgen, a graduate student in journalism. "There are so many more regulations. That scares some people away."
Billgen said she might have been scared away, too, if it hadn't been for help from KU to get through the visa application process.
KU officials say that personal touch has helped the university resist a national decline in international graduate student enrollment. A new survey of 122 member institutions of the Council of Graduate Schools showed a 6 percent decrease in graduate students from foreign countries. More than two-thirds of schools reported some decline.
'Amazing good shape'
KU, meanwhile, saw a 2.2 percent increase in international graduate students, giving officials hope that the post-9-11 impact on international enrollment may be less at KU than at other schools.
"We're in amazing good shape compared with the rest of the country," said Diana Carlin, dean of the Graduate School and international programs.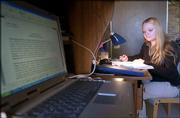 The decrease at most schools has been attributed to the difficulty -- or the perceived difficulty -- of receiving visas under tightened U.S. immigration policies. Other factors include anti-Americanism abroad and increasing competitiveness from universities in India, China, Europe and Australia.
KU had 950 international graduate students in fall 2003, compared with 971 this fall. When including undergraduates, KU's international population declined 1.7 percent, from 1,644 in 2003 to 1,615 this year.
Nationally, the fall wasn't as steep as feared, considering applications last spring were down 32 percent. U.S. universities staved off a comparable decline in enrollment by admitting a higher percentage of students and persuading more admitted students to enroll.
Alarming results
The results of the national survey still are alarming to educators. American universities are highly dependent on foreign students for teaching and research help, particularly in the sciences and engineering, a field in which foreigners make up 50 percent of graduate enrollment.
"If you took them out of the system, we would not be at the same point we are in many of our endeavors -- scientific endeavors and also economic growth," said Heath Brown, the council's director of research and policy analysis.
And students who return home also advance U.S. interests by bringing a better understanding of the United States to leadership positions, he said.
Both are reasons KU has worked hard in recruiting and enrolling graduate students in recent years, Carlin said.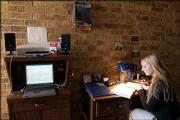 She attributed KU's increase to a variety of factors, including continued visits to U.S. embassies, a perceived sense of security in the Midwest, a strong alumni base that helps recruit and a good relationship with the congressional offices, who help when students have problems obtaining visas.
"It's been a lot of things coming together," Carlin said.
More trouble ahead
She said increases in application fees would mean students must pay an additional $200 next year to receive their visas. That could deter even more students from applying to U.S. universities.
But Carlin said she was hopeful international students would continue to see the United States as their best option for receiving an education.
"We are still a beacon in many ways," she said, "and students want to come here."
Billgen said she thought KU's personal touch would keep international students coming to Lawrence -- even if American policies made it more difficult.
"I think KU is just really helpful with everything," she said. "KU gives you the feeling that you're wanted. But the U.S.? Not so much."

-- The Associated Press contributed information to this report.
Copyright 2018 The Lawrence Journal-World. All rights reserved. This material may not be published, broadcast, rewritten or redistributed. We strive to uphold our values for every story published.