The closest most Americans will get to the war in Iraq is their television sets, but military personnel and their families are realizing the war is going to be a personal factor in their lives for a long time to come.
When the war in Iraq began in March 2003, Ivan Frye's two sons, Terran and Justin, were with the Marines in the Persian Gulf. Although both are now stateside, Justin already has served two tours in Iraq and may be going back for a third in January, his father said.
"I worry about them just as much if not more now," said Ivan Frye, of Perry. "It just doesn't seem like we are making much headway in my eyes."
In early August, Army Sgt. Matthew Decker visited his mother, Kathy Decker, in Lawrence after his 1st Armored Division left Iraq. The division's one-year tour of duty had been extended by several weeks because of increasing insurgent attacks.
"He had some very disappointed men under him," Kathy Decker said of her son and the extended tour.
In a telephone interview from Iraq in July 2003, Decker, a tank gunner, described patrols and security missions in the Saddam City area of Baghdad as being relatively quiet. But that changed in later months.
"They were attacked on several convoys," Kathy Decker said. "He had some very scary endeavors, as a lot of them do."
Nerves fray at home
As the insurgents' attacks increased, so did Kathy Decker's nervousness.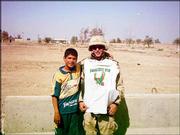 "If we heard from him every three or four days we felt OK," she said. "If it got a lot longer than that we weren't quite sure what to think."
Matthew Decker, who is married, is being restationed at Fort Riley and was expected to visit his mother again today. But he may be sent back to Iraq around the first of the year, Kathy Decker said.
Sam Hunsaker spent much of last week wondering if his son, Darrell Hunsaker, was in Fallujah. The 22-year-old Free State High School graduate and Army tank mechanic called his father on a cell phone Nov. 6 while on the move. Darrell Hunsaker told his father he'd have to call back later.
"That was the day they were sending more troops to Fallujah," Sam Hunsaker said. "All week I'd been worried about him."
As it turned out, his son was not in Fallujah. He had suffered a couple of broken fingers while working on a tank and instead was at Camp Striker in Baghdad, Sam Hunsaker said.
No leave in sight
Pvt. Darrell Hunsaker went to Iraq with the 1st Cavalry Division in January. In addition to working on tanks and operating tank recovery vehicles, he also has manned checkpoints and gone out on insurgent safe house raids, his father said. It is unclear when Darrell Hunsaker will get to come home. His division could end up staying until March, Sam Hunsaker said.
Moreover, despite being in Iraq for nearly a year, Darrell Hunsaker still has not been able to return home on a leave. That prompted Sam Hunsaker to write letters to Kansas U.S. Sens. Sam Brownback and Pat Roberts and U.S. Rep. Jim Ryun. The letters proved futile.
"I got a form letter back from Brownback thanking my son for serving his country and didn't even mention the leave," Sam Hunsaker said. "Roberts said there wasn't anything he could do about the leave. At least he read my letter."
He had not received a response from Ryun.
Darrell Hunsaker's four-year-term in the Army technically ended in July, but he will remain on active duty for several weeks even after his unit returns home because of the emergency "stop-loss" measure taken by the military and the federal government since the Iraq war started. Sam Hunsaker doesn't think his son will stay in the Army any longer than he has to.
"He's pretty disgruntled," Sam Hunsaker said.
Copyright 2018 The Lawrence Journal-World. All rights reserved. This material may not be published, broadcast, rewritten or redistributed. We strive to uphold our values for every story published.