Olathe — This time, the trick was on Lawrence High.
The Lions had thrown four halfback passes going into Friday night's Class 6A state playoffs sectional game against Olathe South at Olathe District Activities Center, and the gadget play had resulted in three LHS touchdowns.
The Lions ran the play once without success Friday, but Olathe South receiver Bryce Morris tossed a 66-yard, game-tying TD pass to running back Shawn Allen on the first play of the fourth quarter, and the Falcons eliminated LHS, 20-14 in overtime.
"We've been practicing that all week to do it," said Morris, who also caught three passes for 53 yards. "We hadn't called it in three weeks. Coach finally called it, and we executed."
Lawrence High (5-6) had used a 55-yard pass from running back Richard Demby to running back Jeff Colter to force the Falcons (9-2) into overtime last month at Haskell Stadium, but O-South won that game, 35-34. LHS failed to convert critical two-point conversions in that loss, including one in overtime.
Friday night, turnovers doomed the Lions, who fumbled four times and lost two. The Falcons fumbled five times and lost two, but Lawrence didn't convert either gift into points.
"Any time you get in a big football game, you can't afford to turn the ball over," LHS coach Dirk Wedd said. "We had opportunities, but we didn't take advantage of them."
The last of Lawrence's turnovers came when Morris stripped LHS quarterback Brian Heere of the ball at the Olathe South 37 with 1:05 left in the third quarter. Lawrence linebackers Paul Finch and Ian Handshy stopped O-South tailback Devin Cummings for a loss on consecutive plays, but Morris took a reverse and connected with Allen on third-and-13.
"Everybody has that play or one like it," Wedd said. "You have to be ready for it. That's why we run it. When you put that many people to stop the run, it's going to open up plays."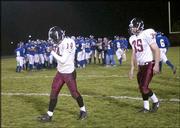 Lawrence made plays in the first 24 minutes and led 14-7 at halftime. Handshy, who rushed for 110 yards, broke a 52-yard touchdown run on the game's opening series.
Cummings, who rushed for 87 yards on 26 carries, tied it with an eight-yard TD run before Heere tossed a five-yard TD pass to Scott Penny early in the second quarter.
The Lions had an opportunity to build on their lead midway through the quarter when Brett Sims recovered Cummings' fumble at the LHS 34, but Colter fumbled four plays later, and Matt Boone recovered for the Falcons at their own 40.
LHS started three of its first four second-half drives near midfield but could not sustain a drive. The Lions drove to the O-South 31 with 2:29 left in regulation, but the Falcons stopped Colter -- who rushed for 103 yards -- short of the first down on a screen pass on fourth-and-six.
"You can't say enough about our defense and how they stepped up," said Olathe South coach Mark Littrell, whose team had won a total of four games in the previous two years. "I'm elated for our kids. This was so big for them."
O-South quarterback Brady Croucher scored from a yard out on the fourth play of overtime, but LHS still had a chance to win in the extra period after Jimmy Sweeney missed the extra point.
The Lions rushed for 241 yards but completed only two of seven passes for nine yards. In overtime, Morris broke up one Heere pass in the end zone on third down, and Brandon Lassiter was unable to haul in Heere's fourth-down pass in the end zone.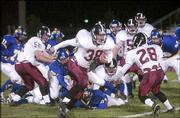 That's the way the game -- and the season -- ended for the Lions.
Lawrence will lose just three senior starters -- Handshy, Colter and lineman Aaron Kie.
"We have a great opportunity," Wedd said of next season. "They have to get in the weight room and get bigger, stronger and faster."
Olathe South will face Shawnee Mission West (9-2) next week in the state semifinals.
Copyright 2018 The Lawrence Journal-World. All rights reserved. This material may not be published, broadcast, rewritten or redistributed. We strive to uphold our values for every story published.