Most of John Kostelnick's research involves poring over maps of land-mine fields.
But it's the photos he comes across during his work that keep him going.
"It tears your heart up," said Kostelnick, a Kansas University graduate research assistant in geography. "When you see a little kid with an arm or leg gone, it's just horrible."
Kostelnick is part of a KU research team testing high-tech equipment used to map land-mine fields. The work is funded by the Geneva International Centre for Humanitarian Demining. The goal: a system that can be used to map the world's most dangerous minefields.
Members of the team recently returned from Ecuador, where they were identifying areas with mines from the Ecuador-Peru conflict of the mid-1990s.
"The bottom line is developing a system that will allow you to map a mine field without walking on it," said Jerry Dobson, professor of geography.
To do that, the team is helping workers in mine-laden countries use laser binoculars, Global Positioning System, a pocket PC and digital camera to create maps of areas where mines have been detected. The information is forwarded to an international database that can be accessed by de-mining agencies who will come in to remove mines.
"This is replacing what they used to do on paper forms," said Matt Dunbar, a graduate research assistant. "Sometimes they just used a compass and measuring tape."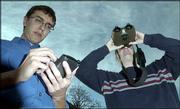 The Geneva Centre estimates there are between 40 million and 50 million land mines in the world.
The system being used by the KU team is based on mine-mapping technology developed in Sweden. The KU group is attempting to determine how well the technology works, and how best to train those who will use it.
So far, the KU team has visited Chile and Albania, in addition to Ecuador. Dobson said trips to Western Sahara and Albania were in the works.
Dobson said the system was working well, though limited GPS signal availability and the challenge of charging batteries in remote locations remained troublesome.
The final report on the land-mine mapping system should be completed by late spring.
The research is generating a buzz among de-mining groups, said Steve Egbert, an associate professor of geography.
"One of the problems the Geneva Centre is having is word has gotten out, and people are clamoring for it," he said. "They don't want to release it before they're ready."
Several Kansas University departments will play host to the university's third annual GIS Day Symposium on Wednesday.Topics at the symposium, which runs from 8:30 a.m. to 4:30 p.m. in Lindley Hall, will include water research, ice sheet measurement and land-mine mapping.The keynote address will be given by James D. Fitzsimmons of the U.S. Census Bureau, who will discuss the role geography plays in Census activities.The full schedule can be downloaded at www.ku.edu/~adrsa/GISday2004flyer.pdf.
Copyright 2018 The Lawrence Journal-World. All rights reserved. This material may not be published, broadcast, rewritten or redistributed. We strive to uphold our values for every story published.