Katie Rhodes and Lindsey Dieterich combined for just eight points on 4-of-13 shooting for Fort Hays State in the Tigers' 88-49 exhibition basketball loss to Kansas University on Tuesday, but both players were happy to be home.
"It's so nice to be here," said Rhodes, a 2001 Free State High graduate. "I grew up coming to games and being such a fan that being on the court feels like an honor."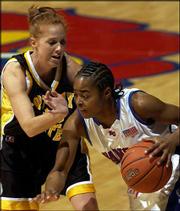 Tuesday's exhibition game was the second return to the area for Dieterich, who graduated from Ottawa High in 2002. She played just six minutes in a 73-56 exhibition loss to the Jayhawks on Nov. 17, 2002, but played 16 minutes Tuesday night in front of many local fans.
"It's nice to be home because you have a lot of family and friends who can't travel to Hays and Colorado to see you play," Dieterich said.
As one of just two FHSU seniors, Rhodes said she had played a large role as a leader for a team coming off a 15-13 season which ended with five straight losses.
Dieterich thinks she can help the Tigers in a similar capacity.
"As the only junior who's been here three years, I do feel like I have a bigger leadership role," she said.
Though both are team leaders, the two Lawrence-area graduates enter the 2004-05 season on different paths.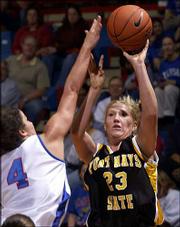 Rhodes' production dropped from 8.6 points a game to 6.1 last season, and her field-goal percentage fell from 43.5 to 32.2 after changing her shooting stroke to a quicker style.
The senior forward has switched back to her old form this season, though she struggled against KU, hitting just two of six shots.
"It's not where I want it, but I'm going to give it time," Rhodes said.
Dieterich's numbers improved last year as she increased her scoring average from 3.0 to 5.5 points a game. Much of that improvement came from behind the three-point line, where she more than doubled her shooting percentage -- 34.4 percent last season, compared to 15.8 in her freshman campaign.
"Last year was definitely a better year," Dieterich said, "and I'm hoping for a better year this season."
Rhodes will graduate in December with a degree in health promotion and start work on her masters of business administration in the spring.
With just one season left, she's hoping for personal improvement over last year and team progress as well.
"I want us to win our first round in the conference tournament and get 20 wins," Rhodes said. "We also have specific goals for turnovers, assists, rebounds and other stats, and I'd like us to reach those."
Dieterich has another year at Fort Hays State after the 2004-05 season -- another year to help the Tigers improve, and another year to enjoy her time at the university.
"I love the school and the atmosphere," she said. "I really love the school and community, and they're great supporters of basketball."
Copyright 2018 The Lawrence Journal-World. All rights reserved. This material may not be published, broadcast, rewritten or redistributed. We strive to uphold our values for every story published.