Near Fallujah, Iraq — Thousands of U.S. and Iraqi troops pushed into insurgent-held Fallujah Monday in the largest military operation in Iraq since the U.S.-led invasion last year.
U.S. Marine and Army units entered Fallujah from the north just after sunset, their armored vehicles crawling over huge dirt mounds that insurgents built around the city. Fighters could be seen digging positions as the U.S. forces moved forward.
Since a siege of the city of 300,000 people by U.S. Marines was called off in April, insurgents have controlled it. Located in the Sunni Triangle area west of Baghdad, Fallujah has been described by U.S. and Iraqi officials as a hub for the campaign of violence aimed at destabilizing Iraq's interim government and driving foreign military forces from the country.
In Washington, Defense Secretary Donald Rumsfeld vowed that the assault on Fallujah would not be called off this time.
"I cannot imagine that it would stop without being completed," Rumsfeld said at a Pentagon news conference.
Army commanders here said their troops encountered some resistance in the first hours of the battle, which began about 7 p.m. local time (10 a.m. CST). Soldiers and Marines left their armored vehicles to fight in the streets and clear buildings where insurgents were suspected to be hiding.
Commanders said the American armored units would be followed by Iraqi forces, who will be largely responsible for clearing and securing parts of the city. The heaviest fighting, they said, is expected in the Jolan neighborhood and in industrial areas.
The Iraqis also will be responsible for engaging insurgents around mosques and other sensitive sites, the military said. Witnesses said U.S. fighter jets bombed three mosques Monday in Fallujah. Military commanders said insurgents had been seen moving weapons into the mosques in recent days.
No information on casualties was immediately available Monday night. Radio transmissions indicated few American troops were wounded in the first five hours of fighting; Iraqi casualties could not be determined.
Residents reported that a Saudi national known as Abu Waleed Saudi, a senior military aide to insurgent leader Abu Musab Zarqawi, was killed in fighting west of Fallujah.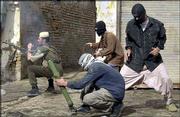 As the battle escalated in the city, several explosions echoed through Baghdad, 35 miles to the east. Two car bombs detonated outside churches in the capital's southern section, news services reported. Several hours later, mortar shells hit outside the hospital where wounded survivors of the church bombings had been taken, apparently targeting Iraqi police and National Guardsmen maintaining order outside the emergency room. At least six people were reported killed in the attacks.
In separate violence Monday, a U.S. soldier was killed by small-arms fire while on patrol in eastern Baghdad and a member of Britain's Black Watch battle group was killed when a roadside bomb tore the wheels off an armored vehicle south of the capital.
A few hours before the launch of the assault on Fallujah, called Operation Phantom Fury, interim Prime Minister Ayad Allawi visited Iraqi troops at their training base outside the city.
"The people of Fallujah have been taken hostage ... and you need to free them from their grip," Allawi told the soldiers. "Your job is to arrest the killers, but if you kill them, then so be it."
"May they go to hell," the soldiers shouted.
"To hell will they go," Allawi replied.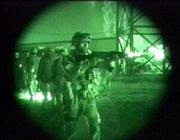 Copyright 2018 The Lawrence Journal-World. All rights reserved. This material may not be published, broadcast, rewritten or redistributed. We strive to uphold our values for every story published.